London — Before they were famous, the Rolling Stones entertained small crowds twice a week in the back of a hotel bar. The band Madness broke into the scene with a gig at London's Hope & Anchor pub. And the Beatles built their fan base with live shows in Liverpool.
But it's unlikely the next generation of rock 'n' roll stars will be discovered in a British pub. Increasingly, live music whether a pop group, jazz trio or folk band is barred from most venues.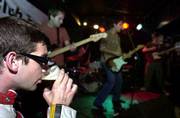 Musicians say that hurts not only wannabe rock stars, but the music industry worldwide. They began staging protests this summer after Prime Minister Tony Blair's government delayed plans to revise archaic entertainment licensing laws.
Blair, who played guitar in a rock band called Ugly Rumors during his school days, has acknowledged there is a problem with the law, known as the "two-in-a-bar rule."
That rule stipulates that if more than two musicians perform without the proper entertainment license, the bar's owner can face fines of $28,600 or six months in jail.
Getting an entertainment license from local governments can be an expensive and overly bureaucratic process. Consequently, only 5 percent of all pubs, restaurants and nightclubs in Britain currently allow live entertainment.
Reform proposals include increasing the number of musicians allowed to perform without a license, making the application process easier and giving councils clearer guidelines on acceptable fees.
"You can put a disco in, be belting out music with records or put on Sky TV. You can make a lot of noise, but if you have more than two musicians performing you are breaking the law," said Lord Anthony Colwyn, co-chairman of the All-Party Parliamentary Jazz Appreciation Group.
Colwyn, an avid trumpeter, was escorted out of the Red Lion pub near Blair's Downing Street residence recently after his jazz trio attempted to play without a license.
The entertainment licensing law was introduced in the 18th century to deal with unruly drinkers. But the rules, including the two-in-a-bar regulation, were only laxly enforced for decades this century.
Then in 1982, enforcement was handed over to local governments, who began agressively following the regulations critics say because they saw them as a big money earner. Fees can range from about $70 to $5,720, according to the Musicians' Union.
The national government said it was receiving many complaints about "seemingly unreasonable conditions" attached to the licenses and last year promised a complete overhaul of the law.
But the promised legislation has been delayed at least until next year.
Many small folk societies have been forced to stop performing in public venues because the costs are simply too high, said Rupert Redesdale, of the English Folk Dance and Song Society. The same is true for Caribbean steel drum bands and jazz acts, he said.
"Unless we do something, we are going to lose live music," said Redesdale, who led protests at London pubs in July. The musicians arrived, set up their instruments then sat quietly beside them.
Bernard Doherty, spokesman for the Rolling Stones, said the law would have put a stop to groups like the Stones, who were discovered while playing Tuesday and Thursday gigs at the Station Hotel in Richmond in 1962.
While modern pop stars are more likely chosen from demo tapes or auditions, critics of the licensing law say record company executives still go searching for talent at the corner pub.
Local councils contend they are simply following the law.
"We can't choose not to enforce the law just because some people don't like it," said Ian Foulkes of the Local Government Assn.
"All of this would have been sorted out had the government gone ahead with licensing reform," he said. "We are bitterly, bitterly disappointed it was dropped."
Copyright 2018 The Associated Press. All rights reserved. This material may not be published, broadcast, rewritten or redistributed. We strive to uphold our values for every story published.