Three seating choices were presented when we visited Kokoro: the cooking tables, the regular dining area and the sushi bar.
"I recommend the dining area," our congenial host concluded. Ordinarily I am quite open to the power of suggestion, but in this case, recommendations were worthless. We had two small children who had been promised the sight of the knife-wielding performing chef.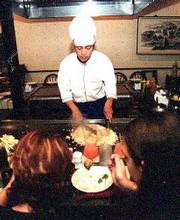 "Cooking tables," we said.
He warned us that they were hot, fanning himself to demonstrate.
"Cooking tables," we persisted.
You could tell he thought we were making a serious judgment error, opting for this Benihana-pioneered style of Americanized Japanese cooking, but apparently he also had been brainwashed into believing the hare-brained hypothesis about customers being right. He led us off to the cooking tables.
The word "kokoro" means "the spiritual mind or heart," according to the definition printed on Kokoro's menu. "Yes!," it continues, "You can feel warm heart around you while you have a meal in our restaurant."
I am not ordinarily of the warm-fuzzy variety (some of you may have noticed), but I am sensitive to the fact that some restaurants make you feel welcome and others don't. On our visit, Kokoro planted itself firmly in the former category with staff who were competent and, it would seem, good-hearted. I had a nice time, and not only that, I ate well.
Kokoro is a restaurant that I would term "family formal." It's friendly to the short set, offering kids' cocktails and chopsticks that are rubber-banded together to make easy-to-manage tongs, but it's way cooler than, say, Applebee's (even with the heat coming off those cooking tables). We happened to overlap with a birthday celebration for an 11-year-old; even without video games, it was as much fun as Chuck E. Cheese, and with less saturated fat.
Teppanyaki style
Our waitress started us with some decent miso soup and a salad that was a bit supermarketish in its components, but topped with an interesting dressing. Then a cart loaded with food appeared, and the teppanyaki spectacle began. Water sizzled across the griddle, flames roared into the air, and knives and cleavers began to scrape together in a display that would make horror-movie villains envious.
An appetizer of two shrimp was delivered first; these were good dipped in the very tasty ginger sauce which had been placed next to each person. After that came fried rice, cooked with an egg that the chef flipped in the air like a pancake several times, then cracked by catching it on his upturned blade. Often fried rice suffers from being prepared too far in advance of serving; this was of course freshly cooked and yummier than most.
The show continued as we got teriyaki beef and chicken, cut into bite-sized pieces, and salmon. All were good, but the salmon, in particular, was very tasty, served with a teriyaki glaze dotted with sesame seeds.
Meanwhile, a tempura dinner (prepared in the main kitchen) came; these batter-dipped and lightly fried vegetables and shrimp were pretty good although perhaps a bit on the heavy side. For a pungent counterpoint, order this entrwith the optional California roll, and dip it in soy sauce doctored with wasabi.
Japanese meals traditionally end with fruit; ours came with a decoratively sliced orange and, less traditionally, small quarters of marshmallowed cookies.
Dining room
Eating in the dining room occasions a less spectacular show, but is still pleasant. While not feeling exactly like I'd been transported to Japan, I liked the timbers erected in simple structures reminiscent of Japanese architecture.
My bowl of the House U-don (Japanese noodles) was a thin broth packed with thick chewy noodles. It was topped with green onions and a "fish cake" that was not what I expected: approximately the size and shape of a mushroom slice, this processed fish is essentially like "a fish hot dog," our waitress explained. The soup was quite bland, however, and as such I actually found it too much to eat, without anything else, in one sitting.
My companion ordered the vegetarian yakko bento: this, unfortunately, arrived without several of the listed items. Vegetarian potato salad and seasoned potato spaghetti were nowhere to be found. The bulk of the dish was comprised of (raw) tofu and edamame (unshelled soybeans), with rice and a helping of saut vegetables. It all tasted fine, but I was disappointed at the lack of variety.
Nonetheless, I'd recommend Kokoro. If you're intimidated by Japanese eating, the staff is more than happy to explain the finer points without making you feel ignorant. And feel free to flaunt your flatware habits. Use a spoon to eat your soup, if you want, instead of drinking from the bowl in the traditional Japanese manner. Don't fret if you stab your food with a fork instead of picking it up with chopsticks.
Just one safety precaution, however: Stay away from those knives.
Copyright 2018 The Lawrence Journal-World. All rights reserved. This material may not be published, broadcast, rewritten or redistributed. We strive to uphold our values for every story published.