At dawn, about 30 demonstrators were cursing Cork & Barrel Wine and Spirits owner Dan Blomgren. By noon they were giving him a round of applause.
Unexpected public outcry persuaded Blomgren Wednesday to preserve a mural on the former Community Mercantile building, 901 Miss., where he will open a liquor store in September.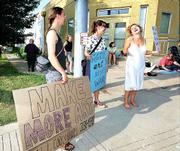 "I had no idea the mural meant so much to so many people," Blomgren said. "Once that was brought to my attention, of course the mural's staying."
Construction crews were prepared Wednesday to paint over the artwork, created by 40 community members in 1996.
News about the mural's planned demise spread like wildfire after several residents noticed painters power-washing the building Tuesday.
Mural admirers circulated Blomgren's e-mail address and phone number. Wednesday, about 60 people stopped by the old Merc building to wave signs that read "honk if you support the mural."
Blomgren said he received 50 e-mails and dozens of calls to his office and home.
"I'm a local guy, too," he said. "I don't want to upset the local constituency."
When Blomgren showed up at the protest site to meet with the construction crew, demonstrators sent in local crop artist Stan Herd.
"I said that we artists stick together and support each other and hopefully he'd change his mind," Herd said. "When (Blomgren) told me he wasn't painting over it, I said, 'wow, that's incredible' and gave him a high-five Then everyone walked around the building, opened the door and applauded."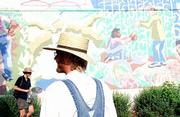 Blomgren said he made the decision a few hours before meeting with protesters.
"They were happy, obviously, and stopped burning the effigy of me," he added. "Of all the battles in the world to fight, I decided this one wasn't that big a deal."
While the mural will remain untouched, the rest of the building will be painted with Cork and Barrel's logo colors gold and blue. Though the building won't have the "new look" Blomgren had intended, patrons say his business will benefit.
"I'm gonna buy all my merlot there," Herd said.
Sandy Broughton helped paint the mural and said covering it would have soured many potential customers. She was surprised but relieved the painting was saved.
"No one expected it to happen," she said. "A piece of art is like a child it's something to take care of and preserve. Fortunately, there are plenty of people in this community who stood up for it."
If anyone felt like a protective parent this week, it was mural creator David Loewenstein. The Lawrence resident was in New York accepting a grant when he got word his artwork was in jeopardy.
"The mural will be the first place I go when I get home (today), and then I have a lot of thank yous to give out, including to Mr. Blomgren," Loewenstein said. "I know he struggled with the decision, and it's really wonderful he can find a place for the mural on his business."
Copyright 2018 The Lawrence Journal-World. All rights reserved. This material may not be published, broadcast, rewritten or redistributed. We strive to uphold our values for every story published.