Joanna Bonicker is a self-described fragrance fanatic who's constantly researching new products on the Internet and sniffing testers at department-store counters.
So, when she grew curious about French perfume company Comptoir Sud Pacifique a few months ago, she thought she had two choices: Shell out $79 for a new eau de toilette or log onto makeupalley.com's makeup-swapping site.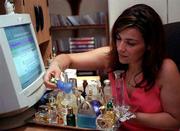 Bonicker chose the latter, arranging to trade a half-full bottle of J'Adore perfume by Christian Dior for a similarly used Comptoir Sud Pacifique spray with a woman in New York she had never met.
"My husband thinks I'm crazy," said Bonicker, 29, a Baltimore waitress who has more than 40 bottles of perfume and scented body lotion thanks to her swaps. "But he likes that I do this instead of spending $50 on yet another fragrance. It's exciting because I get to try new things, and if I like it, I keep it. If I don't like it, I swap it back out again."
Swapping makeup used to be a fun activity usually shared by women or teen-age girls and their friends or, at least, people they knew personally. But today, makeup swapping has evolved with the high-tech times, and thousands of women are logging onto Web sites including makeupalley.com or thelipstickpage.com to trade everything from perfume to mascara to lip gloss with women across the country and throughout the world.
Looking for a blush stick by Tarte Cosmetics? A makeupalley.com swap list boasts one that was "RIS" (Received In Swap) "approx 75 percent of stick remains. This is truly great stuff, but I am too oily in the summer to use a stick blush."
Once you've found a product you want to swap, haggling and other details of the trade are arranged via e-mail. Both parties then mail the items usually within three to five days to each other. Many swapping sites began as offshoots of online message boards to discuss makeup, and their services are free.
Tips for swapping makeup over the Internet:Use a reliable swap site whose system makes it easy to check swappers' history. Makeupalley.com, for example, allows people to write positive or negative reviews of swappers.Try to trade with established swappers who have solid reputations for sending their items clean and in a timely manner.When trading with a first-time or unknown swapper, insist that they send their end first so you don't get "swap-lifted."Always clean the product thoroughly and wipe down the container with alcohol.If you don't understand swapping lingo like "SIB" (Still In Box) or "RAE" (Received As Extra) ask for help. Swappers are a notoriously helpful species.
Where to swap:
www.makeupalley.com
www.beautybuzz.com
www.thelipstickpage.com
www.icompact.com
Initial apprehension
"At first I thought, 'There's something about it that seems a little bit gross,'" said Alexis Mezzina, 21, a New York cosmetics executive who used to swap makeup online when she was in college. "But then you read the message boards, and you see how enthusiastic these people are. They're not going to want to send you disgusting things, because they want to get good stuff, too."
Hara Glick, president of makeupalley.com, pointed out that online swapping often is ideal for women who like trying different makeup brands but don't know what to do with their items if they don't like the color or fragrance after using them once.
"Many women love beauty products, but they're expensive," Glick said. "This makes sense because it gives you the opportunity to try something without buying it."
Administrators of makeup swapping sites said swappers have not reported any health problems related to trades. They said complaints instead relate to incidents of "swap-lifting," in which the other party never sends their end of the deal. Sites such as makeupalley.com and beautybuzz.com provide tips and reminders on cleaning used makeup and their containers with alcohol before mailing them.
"If you think about it, women go into department stores and use the testers all the time, and I think that's kind of gross," Glick said. "How many hundreds of women use the testers? But with this, you're just swapping with one person who used it."
Bonicker said she worries about the risks attached to swapping, so she trades only fragrances and body lotions.
New opportunities
Maria Lawson, who loved makeup swapping so much she formed beautybuzz.com four years ago with a woman she met on a now-defunct Internet swapping site, said the practice enables women to try products that might not be sold in their neighborhoods.
"There are a lot of women and even men who live somewhere where they don't have access to certain cosmetic lines or fragrances or skin-care lines," said Lawson, who lives in Indianapolis. Her beautybuzz.com partner Melissa Kinder lives in Anaheim, Calif.
Makeup swapping Web sites often have message boards where women chat about their favorite products or rant about ones they dislike. Sometimes, their conversations lead to product changes.
Maureen Kelly, president and creator of New York-based Tarte Cosmetics, said she has made several changes to her line of makeup thanks to messages on swapping sites.
A few months ago, after seeing swappers share their frustrations with how quickly they were using up Tarte lip glosses, Kelly changed the product from 1.9 grams to 3.5 grams at the same $19 price. Kelly also made the gloss wands longer and changed the product flavor from vanilla to natural after reading postings on swapping sites.
Copyright 2018 The Lawrence Journal-World. All rights reserved. This material may not be published, broadcast, rewritten or redistributed. We strive to uphold our values for every story published.