Phoenix — Raymond Haas and Lisa Salyer didn't have to stand in line, wait for the mail or leave home to get tickets for a recent women's basketball game.
The friends went online and used Salyer's computer to print tickets for themselves, along with Haas' wife and their two children. After arriving at America West Arena, they went straight to their seats and watched the Phoenix Mercury beat the Sacramento Monarchs.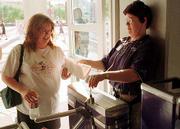 "I had heard about it, so why not give it a shot?" said Haas, a Garden City, Kan., bank executive who was in town on vacation. "It worked out fine. We got good seats and they won."
Print-at-home ticketing is making appearances at sports arenas, concert halls and movie theaters across the country. It promises more convenience for customers and new marketing opportunities for venues.
But the personal information collected to make such options work worries some privacy advocates.
No longer are concert- and moviegoers anonymous in a crowd of dozens or thousands. To complete transactions, online buyers must provide names, contact information and credit card numbers.
The concert you watch today could be linked with the baseball game you watch next month.
"There's a lot of different uses for this information," warned Richard M. Smith, chief technology officer for the Privacy Foundation at the University of Denver. "They almost know more about your life than you do."
Offering convenience
America West Arena, Safeco Field in Seattle and the Staples Center in Los Angeles are among the first venues to use print-at-home tickets. Ticketmaster is hoping to outfit 100 venues by the year's end.
Meanwhile, through Fandango.com, seven of the leading movie-theater chains are offering print-at-home movie tickets in dozens of cities, including New York and Orlando, Fla.
Getting tickets for games and concerts in advance used to mean visiting the box office ahead of time or waiting weeks for the mail. Print-at-home technology avoids all that. Often, even seats can be chosen.
For moviegoers, the technology lets you avoid lines at the box office and the possibility of a sellout.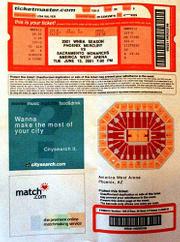 Eventually, paperless e-tickets, like those used by most airlines, may be available.
"It's an easy way for the consumers to improve their moviegoing experience," said Art Levitt, Fandango's president and chief executive.
Fandango is considering add-ons such as express lines at the concession stand and reserved parking for online customers. America West Arena has a rewards program that allows customers to earn points for free merchandise.
Ticketmaster's print-at-home tickets do not cost any more than what you'd pay by using its phone line or retail outlet. Fandango has a $1 service fee per ticket.
The technology works by including a bar code on the tickets you print at home. At the arena or theater, a ticket-taker scans the bar code to verify its authenticity. Research and development teams are already working on automated turnstiles with built-in scanners.
New tracking tools
Promoters say the system may cut down on illegal ticket sales because few people will be willing to buy home-printed tickets from unknown sources.
Venues also get the chance to track who is seeing what, when and for how much.
"The real power in any business is information," said John Walker, vice president of ticket operations and sales for America West Arena. "These tools allow us to get more information than ever before."
With that information, the arena can adjust prices, check on season-ticket holders who miss a couple of games and manage staffing to satisfy customers more effectively. Venues hate empty seats even if they've been paid for because they mean lower concession sales.
For their part, theaters can e-mail customers with new movie suggestions based on past purchases.
Consumers appear to be more willing to share information, especially for special treatment or a discount in return.
That's fine with the Privacy Foundation's Smith so long as arenas and tickets are honest about it and let consumers know they're being tracked.
"It feels OK to us if we know we're making the deal," he said.
Copyright 2018 The Associated Press. All rights reserved. This material may not be published, broadcast, rewritten or redistributed. We strive to uphold our values for every story published.