For years, swimmers have stood on the craggy coastline, looked into the cold foreboding waters of the English Channel and set off on the solitary journey from one side to the other.
Seventy-five years ago Monday, 19-year-old Gertrude Ederle surveyed that situation at the edge of Cape Gris-Nez, France, 21 miles southwest of Calais, and took on the challenge.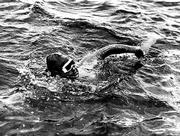 "People said women couldn't swim the Channel," said Ederle, now 94 and living in a New Jersey nursing home. "I proved they could."
Ederle had credentials, equipped with three medals from the 1924 Olympics and 29 U.S. and world records set between 1921 and 1925.
A year before, she had attempted the Channel swim but was pulled from the water against her will by coach Jabezz Wolffe, seven miles short of her goal to be the first woman to make the trip.
It made her more determined, obsessed by that body of water.
At its narrowest, the channel measures about 21 miles. In summer, the temperature of the churning seaway rarely gets higher than 60. There are jellyfish, Portuguese men-of-war and even the occasional shark waiting in the water, none of them particularly happy about sharing their environment.
Another problem for Ederle were her goggles, which were not waterproof. Months later, she and her sister, Margaret, discovered that by applying melted candle wax they could make them airtight.
Ederle returned the next summer determined to conquer the Channel. She was accompanied by her father, sister and a new coach, Thomas Burgess, one of the five swimmers who had completed the trip, a man familiar with the task.
In the days before the attempt, Ederle walked the French shoreline with her father.
"Don't let anybody take me out of the water unless I ask," she said to him. "Promise me."
Promises were not taken lightly in the Ederle family. So when her father agreed, the swimmer felt comfortable that this challenge was going to be between her and the water, with no one interfering.
On Aug. 6, 1926, her body covered in lanolin, petroleum, olive oil and lard to protect it from the water, Ederle set off on her crossing at just after 7 a.m. Buffeted by 20-foot waves, her trademark red swim cap bobbing above the water, she fought the stormy seas tirelessly.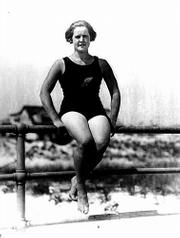 Burgess, who knew the geography of the Channel and how the tides could change suddenly, tried to guide her to a calmer route. "Slow down!" he called to her.
This was a problem for Ederle.
"I couldn't go slower," she said.
Her solution was unique. She sang as she swam, timing her strokes to popular tunes of the day.
The water fought her every bit of the way. At one point, her left leg grew numb and she had trouble kicking. Burgess urged her to give up.
"Come out! Come out!" he shouted at her.
"What for?" she shouted back.
Those two words would become her trademark.
The reward for this trip was to be a bright red Buick roadster.
Her supporters followed Ederle on a tugboat equipped with a blackboard. To encourage her, they would sketch parts of the car, a dashboard here, a fender there.
When Ederle went into the water, just five swimmers had successfully managed that treacherous crossing, none of them women. The fastest had been Enrique Tiraboschi, who made it in 16 hours, 33 minutes.
She would do it nearly two hours faster than that, timed in 14 hours, 39 minutes, according to the Channel Swimming Association records, on a day when the seas were so rough that steamship crossings were canceled.
When she reached Kingsdown, England, that night, she was greeted by a crowd of people holding flares to light her way.
It was a monumental accomplishment, an exclamation point for the Golden Age of Sports, the time of Red Grange and Babe Ruth, of Jack Dempsey and Bobby Jones.
And all at once, it became the time of Gertrude Ederle, a humble New York teen-ager who suddenly became a star every bit as famous as the others.
She sailed home from England and as her ship reached New York harbor, she was summoned from her cabin to meet the captain.
When Ederle arrived on the deck, there were planes circling the ocean liner, dropping bouquets of flowers.
That was followed by a ticker-tape parade up Broadway with crowds shouting, "Hello, Miss What-For!" a reminder of her determination in the water.
"It was the most wonderful day," she said.
Ederle will mark the 75th anniversary of her historic swim quietly with friends and family.
Most of her awards and memorabilia including her swimsuit and those waterproof goggles are in the Swimming Hall of Fame. There is one poignant reminder of her life in her room, though.
Above her bed hangs a single picture: a panoramic ocean scene.
Copyright 2018 The Associated Press. All rights reserved. This material may not be published, broadcast, rewritten or redistributed. We strive to uphold our values for every story published.