Chicago — Richard Russo remembers college times, not the classrooms or dorms, but the summers working on a road construction crew with his father in upstate New York.
He tells of long, hot days that ended in the cool of a roadside bar, the satisfaction of having some money in his pocket, of a young man's pride in feeling strong and working hard.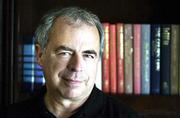 And those moments sitting in the bar, next to his father, after that first taste of beer.
"You think to yourself, 'This isn't so bad,' and the temptation is to do it, to be with your old man, to be part of that camaraderie of guys who work hard for a living," Russo explains.
But Russo, now 52, didn't stay. Instead, he returned to college to study American literature and went on to become a successful, critically praised writer.
From his first novel to his fifth and latest, "Empire Falls," Russo has been coming back to small towns and to people who stayed behind and even to himself, had he not gotten out in time.
Start with "Empire Falls." A once thriving town in central Maine, Empire Falls is one of those communities tied to the nearby factory or plant. Its textile mill and shirt factory has long since closed, and like those other very real shriveling towns, it has been a long time since this one caught any kind of break.
In the middle of it is Miles Roby. He's been part of the local landscape ever since he dropped out of college to return home and care for his sick mother. Years later, he is running the Empire Grill. His mother, who desperately wanted him to stay in school, has died, as has his own dream of becoming a writer.
Russo uses Empire Falls and Miles Roby to explore issues that frequently surface in his books. "One of the things that I have found interesting and dealt with from 'Mohawk' (his first novel) is the way particularly powerful dreams get passed on from one generation to another," he says while in Chicago during a recent book tour.
Insight into small towns
Born in 1949 in Gloversville, N.Y., Russo can look to his own family for an example of how those dreams are shared. His grandfather was a man who would have done anything to go to college, but who grew up at a time when there wasn't much chance for a working-class kid to realize that dream.
So, Russo said, "He passed that dream on to my mother." And his mother, whose college experience was cut short after a couple of years when she got married, passed it on to Russo.
It is no surprise that members of the author's family in one form or another make their way into his novels. In "The Risk Pool," Sam Hall was inspired by Russo's father. And his father was also the inspiration for Sully, in "Nobody's Fool." He was a man more comfortable with having a beer with his adult son than playing with his son when he was a boy.
In "Empire Falls," Miles' daughter, Tick, is crafted from Russo's teen-age daughter. He watched her lug a backpack stuffed with books and listened to her stories about high school.
A big part of Russo's writing also seems to come from his ability to imagine what his own life would have been like had he kept ordering rounds of beer, with his father on the next barstool.
"There's a version of myself that I still see in a kind of alternative universe and it's some small town in upstate New York or someplace like that," he says.
Russo tells of trips back to the towns of his youth, walking into blue-collar bars in the middle of the afternoon and spotting a guy at the end of the bar. "The phone rings and the bartender picks it up and looks over at the guy, who shakes his head, 'I'm not here,"' he relates. "I see that happen and that's the other version of me."
Maybe it's because he puts himself in that bar, or because he knows those people from his own childhood. But the result, says novelist Annie Proulx in a jacket endorsement, is that Russo creates characters "as real as we are."
Critics say Russo writes about those who are down on their luck without looking down on them.
"No one does small towns better than he does," says Greg Changnon, a columnist for the book section of The Atlanta Journal-Constitution. "His characters are totally three dimensional."
So are the towns. "He doesn't over-sentimentalize them," says Maureen Corrigan, who teaches literature at Georgetown University and is the book critic for "Fresh Air" on National Public Radio.
"You don't really want to live in Empire Falls. You have the sense of something being lost, fading away, both good and bad."
Russo sees the small town as the ideal place to explore another theme that runs through all his books.
"There is no better place to look at class than a small town where the rich and the poor have to be with each other all the time," he says.
"I come from a blue-collar family myself and I think he (Russo) gets the class interactions; he just really nails class in his novels," Corrigan says.
Growing from novel to novel
Given Russo's own background, it would seem obvious that he would focus on small-town America. It's also the last thing he wanted to do.
To start with, it wasn't until Russo was an adult that he thought about writing at all. He went to the University of Arizona with the idea of becoming a college professor. Then, as he closed in on his doctorate, he took a few writing classes.
"Once that happened, I went ahead and finished up my degree," he says. "But from that point on, from about 1978 on, I was really in it for the writing."
After earning his degree, he taught college in Arizona, Illinois, Pennsylvania, Connecticut and Maine to pay the bills so he could write.
When he started writing, he didn't want to focus on the kind of towns he had known in upstate New York.
"My first novel was set in the southwest in a big city," he says. "I gave it to my professor and he said, 'You know, the only part of this book that really comes alive is that long flashback chapter that takes place back in that small town in upstate New York."'
Initially crushed by the criticism, Russo came to understand that the professor was right. "Once I realized I couldn't run away from my own experiences, it was very liberating," he said. Out of that flashback scene came one of the main characters in "Mohawk."
A lot has changed for Russo since his first novel. For starters, he quit teaching in the mid-1990s. Looking to retire anyway, the money he made when "Nobody's Fool" was turned into a movie (he worked on the screenplay) has allowed him to write full time.
The stories have changed, too. The son thinking about his father is, with "Empire Falls," the father thinking about his two daughters. Perhaps as a result, "this book took more out of me than the others," he said.
"Empire Falls" is also Russo's biggest and most contemporary story. His previous novels could, with a little tweaking, be told in another time. But "Empire Falls" is a story of today. It is about both a small town and the larger world where factories close and children face dangers never imagined in years past.
"It's a world that intrudes into the personal stories of all these characters," Russo says. "It will not let them alone."
Copyright 2018 The Associated Press. All rights reserved. This material may not be published, broadcast, rewritten or redistributed. We strive to uphold our values for every story published.