London — The Queen Mother Elizabeth came through for thousands of her fans who showed up Saturday outside her home here to celebrate her 101st birthday, less than a week after a health scare sent her to the hospital.
As Britain's oldest royal, the mother of Queen Elizabeth II, emerged from her Clarence House residence in a pale turquoise coat and matching wide-brimmed hat, throngs of well-wishers showered her with wild applause and birthday greetings.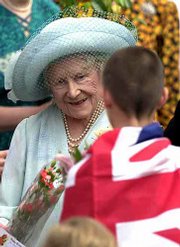 The much-anticipated event grew even broader attention Wednesday after the queen mother checked into a central London hospital and underwent a blood transfusion to treat anemia.
Asked how she felt Saturday, the queen mother replied, "I'm feeling much better."
"To be honest," said devoted fan Terry Hutt, who since Thursday had camped outside Clarence House, "she really looked herself. She was bubbling."
Thousands of other fans waited hours in the streets near her home in hopes of catching a glimpse of the diminutive royal with the pale powdered skin and ready smile, which she flashed frequently as her birthday celebration unfolded.
Troops saluted her, a brass band played "Happy Birthday" in her honor and a small group of children presented her with cards, flowers and balloons. She then hopped unaided into a birthday buggy a golf cart decorated with balloons and began a slow tour of a long, close-packed crowd that had gathered outside the gates of her home.
One of the most beloved royals, the queen mum enjoys enormous popularity here. She has been dubbed "the nation's favorite grandmother."
Consequently, her hospitalization last week became a cause for concern, prompting one newspaper columnist to describe the public's adoration for the queen mum this way Saturday: "As loved as roast beef and Yorkshire pud, strawberries and cream, gin and tonic."
Copyright 2018 The Lawrence Journal-World. All rights reserved. This material may not be published, broadcast, rewritten or redistributed. We strive to uphold our values for every story published.