Often it seems easier to select an all-time, any-level basketball team than it is to choose a first five from the ranks of Kansas University greats. The closer you are to any such situation, the harder it can be. Evaluations grow more difficult by the year for me.
Do you base choices on a college career, a pro career, or both? Michael Jordan wouldn't make many all-time teams strictly on the basis of his North Carolina college tenure, All-American and impressive though he was. It wasn't until Jordan blossomed further and sparked two championship three-peats with the Chicago Bulls that he clinched a No. 1 nod with many.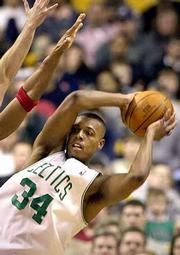 OK, you're picking two all-star guards, and have Jordan, Magic Johnson and Oscar Robertson as finalists? Which one do you bring in off the bench?
Right now, former Jayhawk Paul Pierce is creating headlines with a six-year, $85 million deal with the Boston Celtics. Nobody from KU has ever come close to anything like that, even the incomparable Uncle Dippy who was too early even to fall into a six-year, $39 million package like Greg Ostertag. Oh, my!
Money talks, so should you put Pierce on a KU first-team frontline of, say, Wilt Chamberlain, Clyde Lovellette and Danny Manning? Which one of those three would you replace?
In 1988, the smooth and versatile Manning seemed capable of rising to the stratospheric level of Chamberlain as the next NBA superstar with a Jayhawk lineage. He was drafted by the ever-floundering Los Angeles Clippers, suffered a series of major knee injuries and never was able to measure up to the hopes of so many.
Danny gallantly struggled with the Clippers from 1988 through 1994, then had stops at Atlanta, Phoenix, Milwaukee and Utah before signing his current two-year deal with the Dallas Mavericks.
Chamberlain left KU after his junior season to spend a year with the Harlem Globetrotters. The pros couldn't accept him until his 1959 "class" had moved on. Despite temptations, Manning stayed the four-season course at KU. He was brilliant as a collegian, good but never quite great as a pro.
When Pierce left here after his junior season, I didn't think he was NBA-ready. Dozens of eggs on my face. He's been brilliant as a Celtic. He's the anchor for a new Boston bid for the glory of the Bill Russell and Larry Bird eras.
But is Pierce quite worthy to be on a starting five of KU immortals just yet?
We could go with Wilt, Clyde and Danny up front, put Paul at a No. 2 guard slot and round out the lineup with Jo Jo White. Danny and Paul (now) are good enough with the ball to allow Chamberlain and Lovellette to shift in and out of the post. Jo Jo would operate as the quarterback par excellence.
You all have your Jayhawk backcourt favorites, but when I pick Kansas all-star guards, I start with Jo Jo White.
He was brilliant in college and the NBA and he and Wilt Chamberlain are guaranteed starting jobs in my dream games.
You'd pick whom as the "other guard" with Jo Jo, providing you could settle on the three men up front? Talk about a chore! Fred Pralle, Darnell Valentine, Bud Stallworth, Ted O'Leary, Jacque Vaughn, Ray Evans, Dean Kelley? . . . it gets more maddening the longer you look at the list.
I might go with a 1952 NCAA championship guard who sometimes is overlooked even though he played on two winning Olympic title teams Bill Hougland. But again, the nearer you are to something, the tougher such choices tend to be. You'll always slight somebody.
One of the brightest, funniest and most devoted basketeers Kansas ever had is on the verge of retiring after 31 productive years in the field of human rights. That's Allen Correll, who for the past 21 years has been executive director of the Tacoma, Wash., Human Rights and Human Services Dept.
After coming here from Philadelphia, Al played guard at KU in the 1960-64 period, earning four letters. He was recruited for KU when now-Dr. John Simons of Lawrence was a medical student at Penn. John, an ex-Lawrence High and KU footballer, had read about "Spider" Correll, met him in a drug store and suggested Al give KU a good look. Great move for Correll and KU.
Al was a leader in the human rights field in Topeka (1960s) and Des Moines (1970s) before becoming a legend in Spokane.
He's won awards and honors infinitesimal and has so often done his difficult job with lilt and good will that he's widely respected and beloved, a tough doubleton. Not that Correll couldn't be tough. He'd get that competitive glare on the basketball court, and could deal with anyone anywhere else with the same steely focus and determination. Tough and tender.
If you've never heard one of Al's inspirational or comedic talks, you've missed something. He turned a Dick Harp testimonial dinner on its ear back in the early 1990s when he both honored and imitated his former coach.
The programs listed Correll at 6-3 but he always was joshed that if his famed bowed legs were straightened, he'd stand 6-6 or 6-7. Made no difference time and again he's stood as tall as anyone in worthwhile ventures that have given KU a good name.
The bad news is that Al has been battling cancer for some time.
The best news would be that he would whip it the way marathon bicyclist Lance Armstrong did and enjoy his retirement years in the manner he deserves. Few have ever been able to spin a verbal web the way Spider did in those brilliant speaking appearances.
Copyright 2018 The Lawrence Journal-World. All rights reserved. This material may not be published, broadcast, rewritten or redistributed. We strive to uphold our values for every story published.