Age isn't anything but a number.
Or so seemed the theme Saturday at Alvamar during the Men's City Amateur Championship, as only one stroke separated the tournament's youngest competitor from the oldest.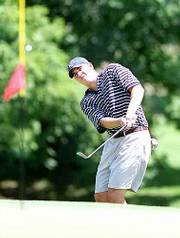 But as soon as Jimmy Hill learned that he had topped Daniel Brumley by a stroke Saturday evening he let out a sigh of relief.
"Whew, I beat him by a stroke," Hill said ecstatically. "Young buck, ha-ha-ha."
Actually, Hill, a 59-year-old employee at Eagle Bend, didn't even know that Brumley, 15, was that young. And moreover he was just joking about the question asked of him about the difference in age between the two competitors.
In reality, Hill, who looked more like a teen-ager in his stylish green and yellow Hawaiian shirt and brown and white oxford golf shoes, was enthused that there was such a difference in age.
"It's just great," Hill said. "To have such young golfers out here is great. Maybe next year we can get even more of them out here."
Putting the age novelty aside, both Hill and Brumley shot good enough rounds Saturday that both may be in title contention today when the two-day tournament moves to Eagle Bend the two players' home course.
"It was a pretty good day," said Brumley, the 15-year-old sophomore to be at Lawrence High, who doesn't even own a driver's license but did complete driver education earlier this summer.
"I was a little bit nervous at the start," Brumley admitted about being mixed with such veteran golfers. "But I got really relaxed quickly.
"I got comfortable with my game and with the players I was playing with."
The two golfers seemed to go in different directions Saturday.
Brumley, who shot a 43 on the front nine as he settled into his first city amateur, stroked a 38 on the course's backside to shoot an 81 which placed him squarely in the pack of other golfers in the championship flight.
Hill, who has won particular flights at this tournament before, currently leads the first flight with an 80 although he was four strokes higher on his back nine than his front.
No matter which way these two players shot the course Saturday, it was clear that every competitor was hampered by the heat.
As temperatures crept near triple digits, so did a few golfers' scores. The extreme heat mixed with a lack of a breeze seemed to affect several golfers, although no one became ill.
"It's hot, hot, hot," Hill reaffirmed. "This heat kind of wore everyone out.
"We had a good time, it's just really hot to be playing golf."
But tournament co-director Ron Shaver said that all the proper measures were taken to ensure safety Saturday.
"Most golfers said that they drank a lot of water yesterday and are taking advantage of all the water coolers on the course," Shaver said. "We just told them to not pass any of them up."
Two players, Nic Rebne and Matt Bellemere, are tied for the championship flight lead at 75.
Play today starts at 8 a.m. at Eagle Bend with the championship flight teeing off first.
Copyright 2018 The Lawrence Journal-World. All rights reserved. This material may not be published, broadcast, rewritten or redistributed. We strive to uphold our values for every story published.