Moscow — North Korean leader Kim Jong Il declared Saturday that his missile development program posed no threat to international peace and renewed his pledge to freeze testing until 2003, a fresh gesture aimed at undermining the rationale for President Bush's proposed nuclear shield.
Making a historic visit to the former capital of the communist world, the reclusive Kim signed a joint statement with Russian President Vladimir Putin terming his missile program "peaceful in nature" and opposing U.S. plans for an anti-missile system to defend against countries like the Stalinist North Korea.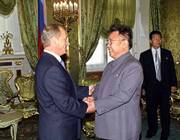 Kim first committed to a two-year extension of the 1999 moratorium on ballistic missile launches during discussions with European officials in May. But his foreign minister later told a visiting New York scholar that Pyongyang would not stick to the pledge unless the Bush administration signaled interest in improving relations. Bush recently invited North Korea to resume talks, and today's statement appeared to be a response.
"The North Korean leader has confirmed that North Korea intends to adhere to the moratorium on the launching of ballistic missiles that it had declared until the year 2003," Kremlin deputy chief of staff Sergei Prikhodko told reporters after the meeting between Kim and Putin. Prikhodko reported no conditions on the moratorium.
North Korean officials reportedly also revived a previous proposal to scrap its missile program altogether if other countries help it launch satellites. Moscow officials told the Interfax news agency that they would be happy to provide such assistance as long as Russia was paid for its services either by North Korea or by a third party such as the United States.
Kim's visit to Moscow his first official foreign trip anywhere but to China comes as Putin is looking for bargaining chips in his forthcoming negotiations with Bush over the future of the Anti-Ballistic Missile Treaty of 1972.
By securing goodwill statements from Kim, analysts said, Putin hopes to undercut the central premise of Bush's missile defense plan-the notion that maverick governments present a serious danger, as demonstrated by North Korea's test launch of a missile over Japan in 1998.
However, Alexander Pikayev of the Carnegie Moscow Center, a research organization, pointed out that Kim did not renounce continued development of ballistic missiles, only testing.
Igor Bunin, director of the Center for Political Technologies, a Moscow research group, said that Putin and Kim were using each other in their distinctive debates with Washington, holding up the prospect of closer Russia-North Korea relations as a scare tactic. "Both sides are engaged in typical blackmail with regard to third countries, primarily the United States," he said.
Just hours after Putin huddled with Kim in the Kremlin today, his defense minister, Sergei Ivanov, spoke by telephone with Bush's national security adviser, Condoleezza Rice, to coordinate future consultations. A senior Russian general plans to visit Washington next week to discuss missile defense and Putin's proposals for deep cuts in strategic nuclear warheads.
Whatever the result, Kim's trip here will go down in the annals as one of the stranger state visits in recent times. Afraid to fly, the man known to his people as the "Dear Leader" traveled to Moscow in a 21-car armored train with darkened windows and gun-toting guards. It chugged its way across the Russian heartland for 10 days before arriving Friday night. He visited a tank factory and pig farm along the way, but largely avoided people during the trans-Siberian odyssey.
His presence in Moscow has irritated many of the city's residents. Trains were shut down for hours, roads were blocked to traffic and even Red Square was closed to visitors to accommodate the quirky leader's security fetish. His motorcade appeared to be larger than Putin's. The restrictions imposed on his behalf even drew a rebuke from former Soviet leader Mikhail Gorbachev, who complained that they were excessively Stalinist.
Copyright 2018 The Lawrence Journal-World. All rights reserved. This material may not be published, broadcast, rewritten or redistributed. We strive to uphold our values for every story published.