Joy Wrolson figures Dandy, her Belgian Shepherd mix puppy, will be in dog heaven while romping at Mutt Run, Lawrence's new off-leash dog park.
"Dandy is really a high-energy dog," the Lawrence resident said. "If you run with him in town, he has to be on a leash. If he can run on his own, he can get a lot more energy out quickly."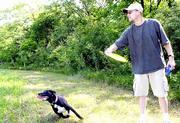 City officials officially opened the 50-acre park, located below Clinton Lake Dam at 1330 E. 901 Road, with a ribbon-cutting ceremony Saturday morning. About 30 people and 15 dogs attended the event.
Members of Lawrence Dogs and Owners Green Space (LDOGS) approached the city in May 2000 to ask for an area where their dogs could run free. An ordinance in Lawrence requires dogs to be on a leash.
Dog owners previously took their dogs to Potter Lake at Kansas University, but campus police began enforcing the leash law after oil from an electrical transformer contaminated the lake.
"We all used to take our dogs to Potter Lake before they started cracking down on the leash laws," said Stephanie Smith, LDOGS chairwoman. "We need a place for our dogs to run. It'll be good here. There's not a lot of roads around. Our dogs will be safe."
The city commission approved the park in January. It includes a restroom and two drinking fountains one for people and another for dogs. Plans call for trails in the woods south of the park.
Mutt Run sits on land the city leases from the U.S. Army Corps of Engineers. About 30 acres of Corps of Engineers land north of Mutt Run also will be available for dogs to run free, officials said Saturday.
Fred DeVictor, director of the Parks and Recreation Department, said the city spent about $15,000 on the park.
"I'd like to thank the silent supporters of this park the dogs," Mayor Rundle said before cutting the ribbon. "We didn't get many angry letters from dogs or anything."
Jonathan Earle and Leslie Tuttle, both of Lawrence, said their mutt, Fig, should get plenty of use out of the park.
"We live near campus, and we've had some run-ins with the campus police on the leash laws," Earle said.
"She needs to run or she's unbearable to live with," Tuttle added. "She loves to play with other dogs, too."
Copyright 2018 The Lawrence Journal-World. All rights reserved. This material may not be published, broadcast, rewritten or redistributed. We strive to uphold our values for every story published.