Eudora — A half-century ago, when Bob Gabriel was a boy helping on his family's farm, farmers often would team up to plow a neighbor's field.
About a dozen farmers revived that tradition Saturday by breaking out their antique tractors to plow a 20-acre tract south of Eudora.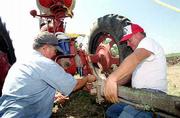 "It just kind of revives a lot of old memories for me," Gabriel said. "And there's a lot of this younger generation that has never driven a plow like this before.
"Every inch of ground was plowed. It was a chore that had to be done."
At the urging of farmer Richard Krabe, the neighbors first got their tractors together in fall 1999. Most of the antique tractors which were made between 1940 and 1960 sit unused much of the year. Some are used to plow small tracts for gardens.
Saturday the neighbors' second "plow day" was on land owned by Bob Miller. The event was rained out twice already this summer.
The wheat planted on the land was harvested earlier this summer, and now a spring crop will be planted there.
All of the neighbors live within a 4-mile radius.
"Richard told us to bring our old tractors together and come find out how it was done in the olden days," farmer Brad Neis said. "We can get the old tractors out and blow the cobwebs off them."
But Neis said he was grateful for the modern conveniences on modern tractors.
"I'd rather sit in the AC than do that," he said. "I don't see how they did it back then."
Copyright 2018 The Lawrence Journal-World. All rights reserved. This material may not be published, broadcast, rewritten or redistributed. We strive to uphold our values for every story published.