Milwaukee — Wes Helms never had a baseball day as good as this one.
Helms snapped an 0-for-18 skid and drove in a career-high seven runs as Atlanta defeated Milwaukee, 14-2, Saturday.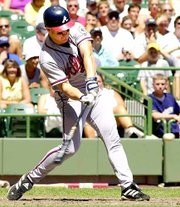 "It's definitely my best game," Helms said. "Minor Leagues, anything. It was my best game I've ever had. It only happens every once in a while in baseball as a hitter and today was my day. I saw the ball, trusted myself and good things happened."
Helms, who struck out in his first at-bat, hit a two-run homer in the third, added a bases-loaded triple in the fifth and also hit a two-run homer in the eighth.
"He needed that," Atlanta manager Bobby Cox said. "He had been struggling just a little bit. He needed that to really give him something to build on."
Atlanta pitcher John Burkett (9-8), scratched from Friday's start because of flulike symptoms, didn't allow a hit until the fifth inning.
"I didn't know, honestly, what to expect as sick as he was," Cox said. "We thought he might go out there and go three or four innings and have to leave."
The right-hander pitched six innings, allowing two hits and one run.
Phillies 12, Giants 2
San Francisco Barry Bonds' major league-leading 47th homer wasn't nearly enough to prevent Philadelphia from snapping San Francisco's nine-game winning streak. Pat Burrell homered, Todd Pratt hit three doubles and Jimmy Rollins reached base five times as Philadelphia got 17 hits and stole five bases while rolling to its first victory in 13 games in San Francisco.
Pirates 6, Rockies 3
Denver Aramis Ramirez homered twice and drove in three runs to back Todd Ritchie, who worked into the ninth inning, as Pittsburgh snapped a four-game losing streak. Ramirez, who was 4-for-5, also singled and doubled after going 2-for-3 with a homer and three RBIs the night before.
Cardinals 3, Marlins 0
St. Louis Making his first start since being acquired from San Diego, Woody Williams didn't allow a run and struck out five as St. Louis beat Florida. Williams (9-8) scattered seven hits in six-plus innings of work in his second career appearance at Busch Stadium. The win was the third straight for Williams, who came to the Cardinals in the Ray Lankford trade.
Dodgers 3, Cubs 1
Los Angeles Gary Sheffield went 3-for-3 with an RBI double, and Adrian Beltre hit a tiebreaking two-run single as Los Angeles snapped a season-worst five-game losing streak. James Baldwin (1-0) earned his first NL victory, allowing a run and four hits in eight innings in his second start since joining the Dodgers on July 26 in a trade with the Chicago White Sox.
Astros 4, Expos 1
Houston Rookie Roy Oswalt took a no-hitter into the seventh inning and finished with a three-hitter to lead Houston over Montreal. Oswalt (9-2) surrendered an infield single to Mike Mordecai leading off the seventh. Mordecai hit a slow dribbler to third and beat the throw by Vinny Castilla.
Mets 4, Diamondbacks 2
Phoenix Vance Wilson, getting a rare start in place of All-Star catcher Mike Piazza, drove in two runs and made two big defensive plays as New York defeated Arizona. The game had an odd ending when David Dellucci, who was on second base, was hit by pinch-hitter Mark Grace's grounder. Grace was credited with a single and Dellucci was ruled out. Had Dellucci gotten out of the way, however, Gold Glove shortstop Rey Ordonez was in position to field the ball.
Padres 2, Reds 0
San Diego Brian Tollberg, recalled from Triple-A Portland before the game, allowed only four hits in eight innings to lead San Diego over Cincinnati. Tollberg (5-3), who allowed just two runners to reach third base, struck out out six and did not walk a batter.
Copyright 2018 The Associated Press. All rights reserved. This material may not be published, broadcast, rewritten or redistributed. We strive to uphold our values for every story published.