Nearly 25 years ago, two men killed a Lawrence woman.
While one was baking pizzas, the other chopped off her legs at the knees, bundled her up in plastic trash bags, then dumped her upper body along railroad tracks east of downtown. They discarded her legs in a Dumpster outside a grocery store.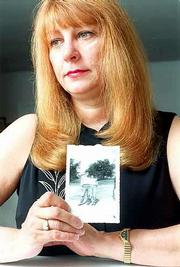 Both men were convicted for their parts in the crime and sent to prison.
Both have now been released on parole.
And the daughter of 46-year-old Margaret Maxey, the woman whose life ended so violently all those years ago, still hasn't recovered from the shock of learning the man who killed her mother was to be set free.
"I was just stunned," Gloria Thelen recalled of the letter she got earlier this year. "I couldn't understand why they would let someone like him go free."
The Shawnee woman, now three years older than her mother was when she was killed, got the news in a January letter from the Kansas Parole Board.
James Gardner, 18 at the time of the crime, was serving a 30 years-to-life sentence after pleading guilty to second-degree murder. His brother Joe Gardner, then 22, was sentenced to a two-to-10 year prison term for aiding in the commission of a felony, or helping Joe Gardner cover up the crime. He was given his freedom a few years ago.
Parole board discrepancy
Thelen said she was told one of the reasons Gardner was freed was because the Parole Board had no record of anyone showing up to protest his parole during a public comment session in April 2000 in Kansas City, Kan.
She says that's not true.
Thelen and other relatives regularly attended such comment sessions over the years whenever Gardner's name came up, she said. And she remembers attending the April 2000 session, along with relatives. Her aunt, Mary Hurst, put her name on the sign-up sheet to speak during the session, Thelen said.
Despite letters to legislators, the Parole Board, Gov. Bill Graves, and a petition containing 200 names of people protesting Gardner's release, there was no effort to stop his parole and no effort since to revoke it, Thelen said.
James Gardner was freed in March.
The crime
On Feb. 7, 1977, Maxey's nude body was found dumped along a hill north of Seventh and Connecticut streets near the railroad tracks. A Santa Fe Railway crew walking along the tracks found the body and called police.
Maxey's legs had been severed at the knees, according to police accounts at the time.
A few hours later, police arrested James Gardner. Then they arrested his brother Joe Gardner.
According to police and court accounts, Joe Gardner met Maxey in a downtown Lawrence bar the night of Feb. 5, 1977. During the early hours of Feb. 6, she went with Joe Gardner to the brothers' residence at 740 R.I.
At some point James Gardner arrived home, became upset and stabbed Maxey to death. Later, with the body left in a closet, the brothers went out to eat. When they returned, they slept most of the day.
That night they went to a store and bought trash bags and pizzas. Joe Gardner cooked the pizzas while James Gardner cut off the woman's legs and stuffed her body into a trash bag.
'Grotesque case'
They put the bag in a grocery cart, pushed the cart to the area of Seventh and Connecticut and shoved it down the hill toward the tracks.
The severed legs were discarded in a trash bin behind Waymire's Butcher Block, which then existed at 846 N.H. Sheriff's officers later found the legs in a Lawrence landfill.
"It was the most grotesque case I ever prosecuted," recalls Mike Malone, then the Douglas County attorney. Malone today is Douglas County District Court's chief judge. Because he is a judge, he declined to comment about James Gardner's release.
Former Lawrence Police Det. Ted Crady sighed and shook his head when informed recently that James Gardner was out of prison.
"I can't believe he's out," said Crady, the lead investigator in the case at the time.
Crady, who left the Police Department in 1979, said the Gardners showed no remorse for their crime, either during the investigation or at later court hearings.
"I don't think either one of those guys should have been released," he said.
The governor can't revoke James Gardner's parole and wouldn't anyway, said his spokesman, Don Brown.
"I don't know of any authority that allows the governor to step in and revoke parole," Brown said. "He wouldn't do it anyway. He leaves those decisions to people who are more qualified to make them."
The Parole Board took all aspects of James Gardner's case and prison history into consideration in making its decision, board chairwoman Marilyn Scafe said. She declined to discuss details of what was considered.
Scafe said that even if Maxey's friends and relatives were present during the last public comment session, it wouldn't have carried any more weight than previous sessions.
Living in Missouri
"We are aware of all of their past comments and letters and the petition," she said.
Even if only one Parole Board member interviewed James Gardner during the decision-making process, as Thelen contends, the entire four-member board voted on the decision to parole, Scafe said. She declined to say what the vote was in Gardner's case.
James Gardner is living somewhere in Missouri, Scafe said. Conditions of his parole required him to go to the Springfield area where he had a job opportunity and relatives nearby, she said.
Information about Joe Gardner's release and whereabouts were not immediately available. The Journal-World could reach neither James nor Joe Gardner for comment.
Thelen was 25 years old and living in Kansas City, Kan., when her mother was killed. She was not raised by Maxey, she said. It was only during the year prior to Maxey's death that the two had started to build a relationship.
"I sat in the courtroom every day and listened to what they did to her," Thelen said. "I don't know if his (James Gardner) parole can be revoked, but I'd hoped this could be the last thing I could do for her."
Copyright 2018 The Lawrence Journal-World. All rights reserved. This material may not be published, broadcast, rewritten or redistributed. We strive to uphold our values for every story published.