Los Angeles — Christopher Hewett, the British-born stage actor perhaps best remembered as television's endearing English butler, "Mr. Belvedere," died Friday. He was 80.
Hewett, whose career began at age 7 on a stage in Ireland, had been in declining health, said his nephew, Paul Hewett. Although the stage was his first love, Hewett likely gained his greatest fame playing the endearing title role on television's "Mr. Belvedere" from 1985 to 1990.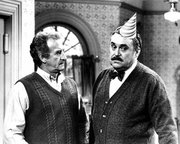 Hewett also appeared in several movies, including "Pool of London" and "The Lavender Hill Mob," both in 1951, and "The Producers," in 1968.
Copyright 2018 The Associated Press. All rights reserved. This material may not be published, broadcast, rewritten or redistributed. We strive to uphold our values for every story published.