New York — A gunman who opened fire on a bus arriving at a midtown Manhattan terminal stopped shooting when one of his wounded victims begged for her 8-year-old daughter's life, police said Saturday.
After listening to the woman's plea Friday night, 25-year-old Volson Mytil put down his gun and announced, "It's over. Call the police," Port Authority Police Inspector Lawrence Fields said.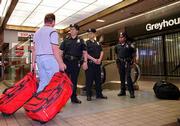 Four people aboard the parked Greyhound bus were wounded after the gunfire erupted around 10:20 p.m.
When police entered the bus in the city's sprawling Port Authority terminal, Mytil was sitting alone in the back. He was arrested without a struggle, and police recovered a 9 mm automatic handgun, officials said.
The four shooting victims remained hospitalized in stable condition at three Manhattan hospitals. One of the wounded, a woman from Jacksonville, N.C., had begged Mytil to stop shooting when he approached her 8-year-old daughter, authority police Lt. Michael Podolak said.
The woman had been shot in the legs. Police did not identify any of the victims.
Police had no motive for the shooting.
About 20 minutes before the bus arrived at the terminal, Mytil was mumbling loudly in his seat, Fields said. Once the bus arrived, about three-quarters of its 47 passengers exited before Mytil began shooting, Fields said.
The gunman started walking to the front of the bus, shooting from side to side, until he put the gun down, Fields said.
Mytil, a brewery worker from Cambridge, Mass., was charged with attempted murder, assault, reckless endangerment and criminal possession of a weapon.
Copyright 2018 The Associated Press. All rights reserved. This material may not be published, broadcast, rewritten or redistributed. We strive to uphold our values for every story published.