The United States Postal Service will issue a stamp honoring James Madison, the fourth president of the United States. The stamp will mark the 250th anniversary of Madison's birth.
Born March 16, 1751, in Port Conway, Va., Madison graduated from the College of New Jersey, which later became Princeton University, in 1771. He was elected to the Continental Congress in 1779. After serving as President Thomas Jefferson's secretary of state for eight years, Madison himself was elected president in 1808.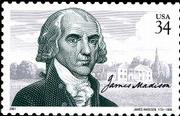 The new, 34-cent stamp features a portrait of Madison against a background of his home estate in Montpelier, Va.
The stamp will be issued Oct. 18 in New York, in conjunction with the Postage Stamp Mega-Event show. The next day, it will be available at post offices, the online Postal Store or by calling (800) STAMP-24.
First-day covers will be available through the Stamp Fulfillment Services.
Catalog of errors

Not all stamps are perfect when they come off the presses. Stephen R. Datz has compiled a list of the mistakes, fakes and forgeries on stamps from 1857-2000 in the "2001 Catalogue of Errors on U.S. Postage Stamps" (Krause, $14.95).
Mount McKinley honored
Mount McKinley in Alaska was honored in 1972 with a 15-cent stamp as part of the National Parks Centennial.
The 20,320-foot mountain is home to grizzly bears, wolves, moose and herds of caribou.
Copyright 2018 The Associated Press. All rights reserved. This material may not be published, broadcast, rewritten or redistributed. We strive to uphold our values for every story published.