Washington — Al Gore, who has been practically invisible since conceding the election to President Bush in December, plans to take his first steps back into the political arena later this month.
Gore will host a training academy in Nashville, beginning on Aug. 13, for 25 young Democrats. The sessions will offer coaching on basic campaign skills, and the students then will be sent off to work in gubernatorial campaigns in New Jersey and Virginia this fall for state Democratic parties, and likely for other Democratic candidates next year.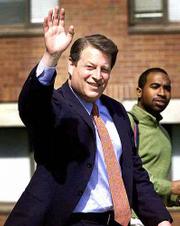 Gore also has accepted an invitation to campaign this fall for the New Jersey Democratic gubernatorial nominee, James E. McGreevey, although no date has been set. In addition, he plans to set up a political action committee later this year that would allow him to contribute to candidates in 2002 and fund his political travel.
The upcoming training academy will feature a faculty of former Gore advisers, including campaign manager Donna Brazile, strategist Michael Whouley, New Hampshire and Florida coordinator Nick Baldick, and Iowa coordinator Steve Hildebrand, and two former senior staffers from the Democratic National Committee, Jill Alper and Laurie Moskowitz.
Not all of those former aides are committed to Gore if he decides to run for president in 2004, although his closest advisers say Gore has not yet made a decision about his political plans. "We're not seeing it as a Gore event," one of the people involved said.
Before the training academy, Gore will join former Tennessee Gov. Lamar Alexander, who twice sought the Republican presidential nomination, for a bipartisan academy in Nashville.
A Gore spokeswoman said none of the sessions will be open to the public or the media.
Gore is also completing a book with his wife, Tipper, and plans to continue teaching this fall in Tennessee as well as speaking for fees. He has spent much of the summer in Europe with his family and was seen last week sporting a new beard. There was no word on how long the new look will survive.
Copyright 2018 The Lawrence Journal-World. All rights reserved. This material may not be published, broadcast, rewritten or redistributed. We strive to uphold our values for every story published.