Singapore — Teaching the elegant actress Helena Bonham Carter to "find her inner ape" was no easy task. But after hanging around a zoo for months, Terry Notary says he was just the man for the job.
Notary who calls himself "ape coach to the stars" helped Bonham Carter and other actors connect with their missing links for their roles in the updated "Planet of the Apes."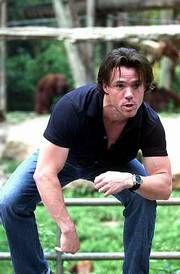 "Everything had to be relearned walking, eating, handling things," Notary, 32, told reporters on Saturday in Singapore, where he was promoting the film.
The actors "had to physicalize all their emotions," he said. "We called it 'finding your inner ape."'
Notary, a former gymnast and performer with the Canada-based Cirque du Soleil circus, said he prepared for his ape-coach job by spending months at a Los Angeles zoo watching chimpanzees and other apes.
Bonham Carter is known mainly for her roles in genteel drawing room dramas such as "Howard's End." Teaching her to move and think like a simian was not easy, Notary said.
"She comes from such a corset-bound, proper acting world," he said. "Apes have this unpredictable nature that's always on edge. They're animals."
Bonham Carter and other "Planet of the Apes" cast members "had to go back to just breathing, learning how to turn your mind off," Notary said.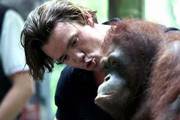 "Stop analyzing yourself, stop judging yourself. That's the way apes are. They live in the moment."
The actors also had to learn apes' "economical way of moving," Notary said. "It's smooth and strong and heavy. They pick up things with a round, scooping motion like an elephant's trunk. They don't just sit down they spiral into a chair."
The new "Planet of the Apes" broke box office records when it opened in the United States. It opens in Singapore Thursday.
To boost interest in the film, Notary breakfasted with orangutans at the Singapore Zoo and later held impromptu classes, teaching a few wary tourists how to act like apes.
"Planet of the Apes," directed by Tim Burton, is a reworking of the 1968 film of the same name in which a human astronaut crash lands on a planet where apes are in charge and humans are hunted and enslaved.
Along with Bonham Carter, the film stars Mark Wahlberg and Tim Roth.
Copyright 2018 The Associated Press. All rights reserved. This material may not be published, broadcast, rewritten or redistributed. We strive to uphold our values for every story published.