Seattle — Jackie Doty and her crew at Lynx Racing set out to find a motivated rookie racer they could mentor and mold. There was one stipulation: This time, they wanted a woman.
Three years ago, Lynx discovered Sara Senske, then a 19-year-old racer from Kennewick, Wash., who wanted to drive faster than the men.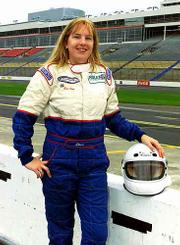 "I get the occasional tacky remark, like, 'So, are you fast?"' Senske said. "Well, yeah. Duh!"
Doty, co-owner of California-based Lynx Racing, said times have changed since she was a little girl. Now, many girls are breaking into the sport, racing their go-karts.
"It's really cool there's a new generation of girls that get to start on the same level as guys and work up the system," she said. "It's always been a good ol' boys network. Hopefully we'll have a good ol' girls network, and it won't matter what sex you are."
And female drivers are starting to get some attention from team owners like Doty, and sponsors are very slowly getting into the act.
In June, Shawna Robinson became the first woman to drive in a Winston Cup race since 1989. Robinson was again sponsored by Tropicana in her attempt to make the Brickyard 400 in Indianapolis on Sunday.
Sarah Fisher is in the top 15 in the points standings in her second season in the Indy Racing League. She drives for Walker Racing and has raced in the Indianapolis 500 twice.
Danica Patrick is racing overseas. In 2000, she finished second in the British Formula Ford Festival, the highest placing for an American.
Senske, who races in the CART-sanctioned Barber Dodge Pro Series, began racing go-karts at age 7. She always craved speed and the thrill of being in the driver's seat.
"I've always been a no-fear kid," the 22-year-old Senske said. "I've always been a rough girl, a tomboy. I used to push and shove and play street hockey with the boys. I did all the outside sports. You know how boys play guns, I did all that stuff."
When she's not on the racetrack, she spends time at Lynx Racing's team shop in Sonoma, Calif. She also has a cardiovascular fitness routine at the gym and lifts weights.
Chris Senske, and his wife, Catie, say they support their daughter's career choice, despite the danger.
"My little baby ... well, it's what she wants to do. You've got to support her, and we do," Chris Senske said while accompanying his daughter at the Target Grand Prix in Chicago. "It's my fault she got involved in it. I started her racing karts."
But Sara Senske still is not making much money yet. It takes patience in this business, she says. Sponsors rarely start handing out contracts until winning is the norm. Senske's team takes care of most of her expenses and her father helps out.
But Doty said there's a lot more support for women now than when she was a kid in Abilene, Texas.
"Women weren't allowed around the race track," the 50-year-old team owner said. "They were considered bad luck."
Today, advocates for female drivers, such as Lyn St. James, are making it a priority to promote women. St. James runs the Lyn St. James Driver Development Program for four days each year in Indiana, and 80 percent of her participants are women. St. James was the second female driver to qualify for the Indianapolis 500 and the first to win the rookie award.
Allison Duncan graduated from her program. And after earning her mechanical engineering degree last December from Cal Poly-San Luis Obispo, she decided to leave her Northern California roots and head to North Carolina, home of NASCAR.
"One of the things that people say female drivers don't have is the technical knowledge that male drivers have," said Duncan, who lives in Charlotte, N.C. "Thanks to my degree, I have a very strong technical background."
St. James said women haven't come as far as she would like. "Until a woman starts winning at the top levels, we're going to keep beating our head against the wall," St. James said.
Copyright 2018 The Associated Press. All rights reserved. This material may not be published, broadcast, rewritten or redistributed. We strive to uphold our values for every story published.