Maryam Zangeneh will be remembering her father's advice when she packs her bags in a couple of weeks to head off to school in New York City: "Don't let anything get in the way of your art."
Zangeneh, 18, who graduated from Lawrence High School last spring, is enrolling in the Fashion Institute of Technology, where she will study illustration. And her father, Mehrzad Alison, an artist and owner of Roy's Gallery, could not be prouder.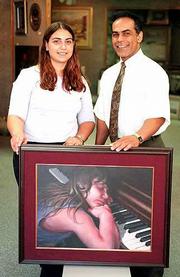 "When she was 3 years old, she started showing talent," Alison said. "When she was drawing, she seemed more advanced that normal kids."
When she was 2 or 3 years old, her father was doing a commissioned painting of a boat. When the painting was about half finished, he noticed that out-of-place brush marks were all over the bottom of the painting.
"Her first try at painting was when she tried to finish mine," he said, with a smile.
Zangeneh said she learned about drawing and painting from her father and from LHS art teacher Pat Nemchock, but she cannot remember a time when she didn't want to make art her life's calling.
"I've never thought I'd do anything else," she said. "This year I began experimenting with illustration. I know what I want to do is fashion illustration and to help people get their ideas down on paper."
Alison knows exactly how his daughter feels. He began drawing and painting as a young boy in his native Persia. He would spend hours applying paint to canvas, often losing track of time.
When Alison came to the United States as an 11th-grader, his father wanted him to be an engineer or doctor and issued him two pieces of advice: "Don't let your painting get in the way of your education. Don't drink too much pop."
Alison tried to follow his father's counsel, but he was too driven to create images on a canvas. He eventually left KU to devote all of his time to painting and has since become known for his realistic paintings and oil portraits.
"Now I drink pop while I paint," he said with a laugh. " I felt like I needed to follow my dream, in spite of my family. Now it's become my daughter's dream."
Zangeneh has already won honors for her art. She took home four Gold Awards from last year's Scholastic Art and Writing competition sponsored by the Kansas City Art Institute and Avila College, both in Kansas City, Mo.
Her style differs from her father's. While Alison's paintings are realistic and his brushwork is "tighter," Zangeneh has a more free-flowing style and looser brushwork.
Alison thinks it is very important for parents to encourage their children's artistic interests.
"It's about supporting your children's dream, especially if they are an artist. Don't talk them out of it," he said. "If you have talent, discipline, dedication and the interest, you can make it like anyone else. It's a hard avenue to take. You need to be able to take criticism and you have to wait to see if anyone gets interested (in your art).
"People like Maryam need to go off and be the best they can be," he said. "My parents wanted me to be a doctor, and in a way I've become one and my daughter will become one, too. She will be a doctor of people's souls and the prescribed medicine will be her art."
Copyright 2018 The Lawrence Journal-World. All rights reserved. This material may not be published, broadcast, rewritten or redistributed. We strive to uphold our values for every story published.