San Diego — Sunrise in San Diego streaks the sky with purples and oranges and warms the air to a refreshing 60 degrees. Otherwise disjointed colors come together for a glorious panorama, the palm trees lining the boulevards stand at attention, and nothing seems the least bit hurried in this city just north of Mexico.
There's no better way to enjoy this San Diego sun than taking a stroll in the city's spacious Balboa Park, with its beautiful gardens, 10 museums and the centerpiece the world-famous San Diego Zoo, home to some 4,000 exotic creatures such as pandas, Sumatran tigers and colobus monkeys.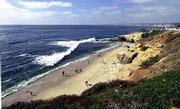 The zoo and the affiliated Wild Animal Park are magnets for animal lovers such as myself. The zoo houses its incredible array of animals in open, moated enclosures no wire cages here and if you arrive early in the morning you can watch giraffes at breakfast and elephants rousing themselves from sleep.
Just don't expect to see many tigers in the Tiger River exhibit. The big cats are shy animals and like to loaf underneath the big trees in their areas away from the curious stares of tourists. The lowland gorillas, however, are frisky; it's common to see them lounging by the waterfall in their home.
There's a bus tour that takes zoo guests on a 30-minute ride through the park, which is a good way to get oriented. Good walking shoes are vital once you start moving in the park on foot.
The inhabitants of the Wild Animal Park have 2,200 acres of wild habitat in which to romp. You can watch antelopes chase each other or marvel at the cheetahs lounging so quietly under bushes that you barely know that they're there. This area, much less crowded than the zoo, is so vast and green it's easy to forget that you are just miles from a Navy base and an international airport.
Mellow mood
The locals, however, are more likely to be found taking their sun on one of the several beaches.
Ocean Beach was my first stop, a funky hamlet popular with surfers and beach bums that began a century ago as a cluster of weekend beach cabins, many of which were converted to year-round homes. Today the old houses and apartments are painted cheerful pinks and yellows and the mood is so mellow that wearing anything fancier than flip-flops and shorts would be considered uptight. A sign at one burger joint says it: "No shirt, no shoes, no problem."
Newport Avenue, the main drag, is lined with a predictable array of surf shops and souvenir palaces, but straggling tourists don't seem to faze the young denizens who call the place home.
Ocean Beach is also home to a 2,100-foot-long public pier, the longest on the West Coast, that's often lined with anglers standing shoulder-to-shoulder.
To the north on the other side of the mouth of the San Diego River is Mission Beach, which extends farther north toward La Jolla. At first glance the area seems like nothing more than a tourist trap. The Giant Dipper, a restored 65-year-old roller coaster at an amusement park called Belmont Park, greets you upon entry to Mission Beach and advertisements for summer rentals seem stuck to almost every house.
The Mission Beach-La Jolla area is a lot to take in at once, and it is easy to get sucked into the beachfront bars and restaurants that cater to tourists. With that in mind, I rented a bike and rode along the beach until the boardwalk ran out and then wandered uphill onto the residential streets.
Soon I found signs that pointed to La Jolla Cove. It's an uphill climb and much more difficult than simply driving up to La Jolla, but far more picturesque. By biking you can see the quiet neighborhoods that overlook the Pacific Ocean and marvel at the fantastic Mediterranean architecture and landscaping.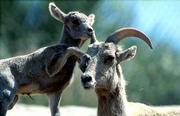 Majestic views
Once in La Jolla I was surrounded by more upscale tourists, wearing designer sandals instead of drugstore flip-flops, shopping in the boutiques along Prospect Street and Girard Avenue, taking pictures on the rock formations and in the small green park on the edge of the water.
As I headed farther north I found about 100 sea lions napping on a cordoned-off section of the beach. According to the locals, these sea lions have been coming to this part of the cove for years. Tourists were lined up to take pictures of the chubby brown creatures and I succumbed as well. Watching the sea lions bounce in and out of the surf was like truly watching nature in action.
Farther up the hill is a tiny coffeehouse called the Goldfish Cafe where a weary bicyclist like myself could sit and enjoy a drink after a long uphill trek. The Goldfish is a tiny mom-and-pop operation and if you walk too quickly up the hill or are distracted by the view of the Pacific you could miss it. But it's worth a stop because a cup of coffee is just a dollar and the view from the lawn chairs out front offers an incredibly majestic view of the Pacific Ocean and the rest of La Jolla. Shelves and ledges carved into the seaside cliffs harbor gulls, cormorants, brown pelicans and other seabirds.
It's also a good place to stop and figure out the rest of your course, either farther into the hills of La Jolla or back down toward the beach. I chose to get back on my bike and head back down to Mission Beach, coasting twice as fast as I had coming up, speeding like a small child down the rolling hills.
I was in a rush to get back because the salsa dancing was next. I was taken to a restaurant called Cafe Sevilla in the trendy Gaslamp Quarter, the 16-block downtown neighborhood that has been designated a National Historic District.
Every Wednesday night Cafe Sevilla offers free salsa lessons to beginners. Coupled with a tall glass of sangria, it's a perfect reflection of the spice San Diego has to offer anyone willing to toss a tour book aside.
Copyright 2018 The Associated Press. All rights reserved. This material may not be published, broadcast, rewritten or redistributed. We strive to uphold our values for every story published.