Washington — As July drew to a close and Senate Democrats settled into their newly acquired committee chairmanships, lawmakers launched a barrage of requests for information from the Bush administration on everything from the makings of its energy policy to a Justice Department decision on gun control.
"The Senate has gone from being relatively compliant to constantly on the prowl," said Larry Sabato, governmental studies director at the University of Virginia.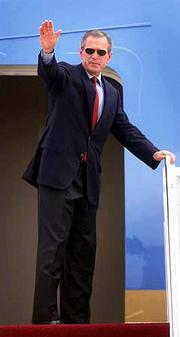 When Vermont Sen. Jim Jeffords left the Republican Party to become an independent in May, his one vote gave Democrats Senate control, committee gavels and attendant subpoena power. Now, the Bush White House is getting its first taste of congressional investigations that the Clinton administration faced for eight years.
On July 18, the General Accounting Office, Congress' investigative arm, demanded that Vice President Dick Cheney disclose who helped craft the administration's energy policy. Sen. Joseph Lieberman, D-Conn., threatened on July 24 to subpoena documents pertaining to Bush administration decisions reversing health and environmental regulations approved during the Clinton presidency. Two days later, Sens. Charles Schumer, D-N.Y., and Edward Kennedy, D-Mass., sent a strongly worded letter to Atty. Gen. John Ashcroft requesting "all reports, memoranda and all other documents" concerning his decision to reduce the amount of time the government keeps records of criminal background checks on gun purchasers.
Tension between Congress and the White House surrounding oversight and executive privilege a power jealously guarded by presidents to protect the prerogatives of the office is "probably as old as the Republic," said Marshall Wittmann, a scholar at the conservative Hudson Institute. "The White House wants no one to pry and Congress wants to be the great voyeur."
Since Watergate, growing media pressure has in turn lead to intense efforts to control the spotlight. "The great fear of the executive branch is that the moment they leak this information to Congress, it will end up on the front page of the newspapers," Wittmann said.
Case in point: The White House avoided a subpoena fight with Lieberman by agreeing to provide information he had requested, on condition that the information not be made public unless the administration is given notice and opportunity to argue against release, said Lieberman, who chairs the Government Affairs Committee.
The dispute between the GAO and Cheney regarding the crafting of the administration's energy policy has evolved into an unprecedented struggle for information. Cheney met one-on-one with at least two energy industry executives while formulating his plan. After failed attempts to discover who participated in the vice president's closed-door meetings, the GAO sent a letter demanding access to this information,
Cheney has said that disclosing such information would set a precedent that would strip him of his "ability to meet with anybody in confidence."
Copyright 2017 The Lawrence Journal-World. All rights reserved. This material may not be published, broadcast, rewritten or redistributed. We strive to uphold our values for every story published.