Lawrence artist Brian Pyle has filled several books with sketches and lists of words, emotions and experiences that later spill over into his artworks.
"I start out with broad subjects and start a list of what fascinates me," Pyle said. "My source of information is real-life experiences and the things I pay attention to. Most are mundane things, and out of the mundane thoughts come my artwork."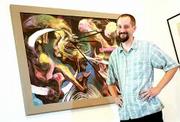 Pyle, who teaches drawing classes at the Lawrence Arts Center and Free State High School, has two works in the Lawrence Arts Center Faculty Show on display at the center, 200 W. Ninth St.
"You First," a 40-by-58-inch drawing of pastel, charcoal and pencil, is based on a list dealing with frustration ranging from a feeling that won't go away to the drop-of-the-hat emotion that makes a person want to kill another person. The drawing's images include the human figure and spinning objects.
"I erased half of 'You First' and went back and added the motion. It was a study in frustration itself," he said.
The second mixed-media drawing, "The Making of Ixion's Wheel," measures 37 inches by 50 inches. The work is based on the Greek mythological character of Ixion, the father of the centaurs who was punished for an irreverent act by being chained eternally to a revolving, fiery wheel.
"But all of my artwork boils down to composition balanced and not balanced, things that work and things that don't work, detail work versus the passage work (how to get viewers from one point of the drawing to the next)," he said.
"It becomes a relationship. After enough information has been put down, the painting tells you (what to do) and you argue with it. And you better work it out then and there, rather than letting it fester."
Pyle, who grew up in Hutchinson and studied with Jinx Wright in high school, graduated from Kansas University with a bachelor's degree in printmaking and drawing in 1989. He studied with John Talleur, Roger Shimomura, Cima Katz and Rick Dishinger.
He graduated with a master's degree in fine arts from the Art Institute of Chicago in 1991. He and his wife moved to London, and then returned to Lawrence in 1997 because they thought it would be a good place to raise their young son. He has shown his work in galleries and art spaces in Chicago, London, Texas and Lawrence.
Pyle began teaching at the arts center in 1998.
"I learn a lot about myself when I'm teaching, and hopefully the students learn something about themselves," he said. "When the light bulb goes on and they see (their art) as a way of thinking and view it as a way to live life that's why you teach."
In the future, Pyle would like to add printmaking to the classes he teaches. And he plans to keep stretching his imagination and developing his lists of images and words.
"I do some spontaneous working where I'm doing the exact opposite (of the lists). I don't think about it or analyze it. I'll put down nine pieces of canvas and work on all of them at once," he said. "It's about keeping a balance and keeping yourself interested in your art. If you work the same way all the time, you end up with predictable results."
Features-arts editor Jan Biles can be reached at 832-7146.
Copyright 2018 The Lawrence Journal-World. All rights reserved. This material may not be published, broadcast, rewritten or redistributed. We strive to uphold our values for every story published.