Cleveland — Seattle's jaw-dropping record may have the rest of baseball in awe.
It's no big deal to the Mariners.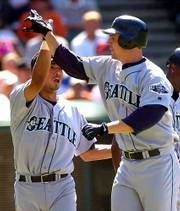 Dan Wilson hit a tiebreaking three-run homer in the seventh inning as the Mariners moved 50 games over .500 with an 8-5 win Saturday over Cleveland.
"We don't go for records, anything like that," said Wilson, Seattle's catcher and No. 9 hitter. "What motivates us is the next game. There's no talk of, 'Look where we're at', or anything."
Wilson's homer Seattle's first in 226 at-bats off Danys Baez (2-1) snapped a 3-3 tie as the Mariners won their fourth straight to improve to a preposterous 80-30.
Last season, Seattle didn't get its 80th victory until Sept. 13. The Mariners also won their 44th road game, matching their total from all last season.
Bret Boone hit a two-run homer, his career-high 25th, in the eighth for the Mariners, who have won eight of nine and are 17-6 since the All-Star break.
Ichiro Suzuki had three hits for Seattle, which won despite stranding a season-high 13 runners.
"I think everyone in the room is aware this is a special season," reliever Norm Charlton said. "It's because nobody is selfish. It's pick your poison.
"The whole lineup will get a key hit. Today, it was the ninth guy that won the game. Every game it's somebody."
Tied 3-3, Carlos Guillen walked to open the seventh and Baez hit Mike Cameron with a 2-2 pitch. One out later, Wilson hit his seventh homer into the seats in left-center.
It was Seattle's first homer since Boone connected on July 27 against Minnesota.
"I had no idea," Wilson said. "We don't rely on homers anyway, but try to do what we need. It's a different guy every day. This was my turn."
Freddy Garcia (13-3) allowed three runs and 10 hits in 62*3 innings and won for the seventh time in nine decisions. He walked none and struck out a season-high eight.
Arthur Rhodes recorded the final out for his third save.
Robert Alomar had four hits, and Travis Fryman homered for Cleveland, which has lost six of seven.
The Indians, who came in trailing first-place Minnesota by one-half game in the AL Central, are 1-4 in a seven-game homestand against Oakland and Seattle.
They've been outscored 43-18 in the five games, and Alomar said it's tough to get things turned around against Seattle.
Yankees 5, Angels 4
New York Tino Martinez hit a two-run homer in the eighth inning and the New York Yankees overcame a rare blown save by Mariano Rivera to beat Anaheim. After Troy Glaus' two-run homer off Rivera put the Angels ahead 4-3 in the top of the eighth, the Yankees rallied.
Bernie Williams drew a one-out walk from Al Levine (5-6) and Martinez followed with an opposite-field drive over the wall in left for his 26th home run.
The previous night, Martinez's two-run homer in the seventh capped a three-run comeback that beat the Angels.
Anaheim did little against Roger Clemens, who pitched on his 39th birthday and eased worries about his injured groin. Clemens wound up with a no-decision, keeping intact his 11-game winning streak.
Blue Jays 2, Orioles 1
Toronto Brandon Lyon pitched into the eighth inning to win his major league debut as Toronto beat Baltimore.
Lyon (1-0), recalled from Triple-A Syracuse on August 3, allowed just one run on four hits in 71*3 innings. The 21 year-old right-hander, touted as one of Toronto's top prospects, retired his last 14 batters.
Lyon, selected in the 14th round of the 1999 draft, struck out five and walked one. He was 5-0 in nine starts at Double-A Tennessee before being promoted to Syracuse, where he went 5-3 with a 3.69 ERA in 11 starts.
Dan Plesac recorded two outs in the eighth, and Billy Koch pitched a perfect ninth for his 23rd save.
White Sox 8, Devil Rays 6
Chicago Rookie Aaron Rowand hit a three-run homer and Ray Durham added a two-run shot in a six-run fourth inning as Chicago rebounded from an early five-run deficit to beat Tampa Bay.
Paul Konerko also hit a two-run homer off Tampa Bay rookie starter Joe Kennedy (3-7) to help the White Sox climb back to .500. Konerko's homer, his 24th, tied his career-high set in 1999. White Sox reliever Rocky Biddle (3-7) pitched 12*3 scoreless innings to earn the win after starter Sean Lowe struggled through his shortest outing since replacing injured David Wells in Chicago's rotation on July 3.
Lowe allowed five runs on nine hits and hit two batters before being replaced by Biddle with no outs in the fourth and runners at first and third.
Red Sox 10-6, Rangers 4-2
Boston Shea Hillenbrand's RBI single in the seventh inning drove in the winning run, and Mike Lansing had two home runs and three RBIs in Boston's 6-2 victory over Texas that gave the Red Sox a sweep of a day-night doubleheader. Trot Nixon and Troy O'Leary each had two home runs, and the Red Sox had a season-high six homers, for a 10-4 victory in the opener.
Boston closed within 41*2 games of the first-place New York Yankees in the AL East, and moved one game ahead of Cleveland atop the wild-card race.
Athletics 10, Tigers 1
Detroit Barry Zito pitched eight innings of one-hit ball, allowing only a second-inning homer by Wendall Magee, to lead Oakland past Detroit. Zito (7-7) walked two and struck out a career-high 10, retiring the last 20 batters he faced. The 23-year-old left-hander left after throwing 95 pitches 65 for strikes, and Jeff Tam worked the ninth to complete a combined two-hitter. Jermaine Dye, Eric Chavez and Greg Myers hit homers for Oakland.
Copyright 2018 The Associated Press. All rights reserved. This material may not be published, broadcast, rewritten or redistributed. We strive to uphold our values for every story published.