Fibber McGee, apparently, has made an appointment with a clutter consultant. In the old days, the popular radio star would open his overstuffed closet to the sound of crashing junk. But in the modern era, at Molly McGee's, the closet has been pared down, its purpose simple and streamlined. The current contents of Fibber's Closet? "Oh," our waitress said matter-of-factly. "It's liquor."
Molly's thrives on the beer-and-burger crowd; although its location on South Iowa removes it slightly from the university maw, it compensates with family appeal, diverting the attentions of restless young diners with a basket of books and an electric train circling overhead. In the most notable play for the family business, kids' meals are 99 cents every day throughout the summer.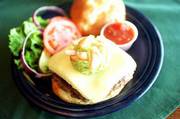 Molly's dr is comfortable, and certainly informal, embracing a certain thematic confusion that spans cartoons, sports and antique advertising. Each table is painted with the names of various cartoon characters (Fred and Wilma, Snow White and the Seven Dwarfs), then joined by a reprint of an old-timey advertisement (root beer, motor oil, women in the war). Meanwhile, the walls are adorned with a short photographic history of KU sports.
Burgers and sandwiches make up most of the menu, with bulky appetizers like onion rings or nachos for those who need some munchies with a beer. A few more substantial entr, like steaks, ribs or pastas will satisfy hungrier patrons.
Our sock-less servers (shoes, yes) were unfailingly nice; I particularly liked the young man who provided us with interesting nuggets of information, like why the cheese fries are now served in wagons rather than wheelbarrows (people kept stealing the wheelbarrows).
Fibber's delight
Since the weather had not yet climbed into the triple digits when I visited, I tried a crock of potato soup. This was thick and tasty, with nice big chunks of potato, and served in a bread bowl that was substantial enough to hold the soup but not so tough that I couldn't pull out chunks and eat them.
Aside from the soup, though, I didn't have the best of luck with the appetizers: the sweet cajun shrimp was served on an adequate, spicy rice pilaf, but the shrimp itself was a bit tough, and the sauce was an odd cocktail variety that reminded me of nothing cajun. Better in taste were the Nachos Grande, which consisted of a huge pile of chips with refried beans, tomatoes, peppers, cheese and chicken. The problem here was that the interior of this dense tower was cold. When we sent the dish back for reheating, it arrived back...still cold.
By the second round I was uninterested in any more nachos, but I will note that this Fahrenheit frustration triggered gracious service from all levels: Our appropriately apologetic waitress informed the manager, and he took a hefty chunk off our bill.
My dinner, the Fibber's chicken sandwich, was a generous serving of grilled chicken served with honey mustard dressing. I think the sole pineapple slice was meant to give it a "specialty sandwich" aura, but this little canned circle just wasn't up to the job. Truly, it's best just to think of it as a chicken sandwich, modest but entirely respectable. Garlic mashed potatoes suffered from the same not-hot fate as the nachos, but otherwise they were a hearty side dish, coarsely mashed with bits of skin, and served with a peppery gravy.
Good-sized hamburgers range from the classic to the "Windsor" (a bacon burger with cheese) to the "Looney" (with mushrooms and burgundy sauce). All were cooked to order, smothered in the various toppings, accompanied by lettuce, tomato and red onion, and very filling. Curly fries and a pickle spear completed this traditional meal.
My companion tried the steak, a thin-cut ribeye that was fairly tasty, but marred by uneven cooking and a bit too much gristle. If you've really got a beef craving, I'd skip the so-so steak and stick with burgers. Especially given the variety of available toppings, they give you more bang for your buck.
If you're in the mood for a bit of barbecue, the half slab of Texas BBQ back ribs were reasonably good. They were tender and easy to eat, and doused in plenty of barbecue sauce.
For dessert we delved into the "Sweet Molly McGee," a messy heap of chocolate brownie, vanilla ice cream and toffee crumbles served in a child's toy plastic dumptruck. (Don't get excited now you can't keep it.) With an ingredient list like that it's hard to go wrong, and this dessert easily serves either a moderate party of four, or a gluttonous party of two.
Molly's has a decent list of draft beer, import and domestic bottles; the largest beer category, however, is "Micro Bottles," so beer snobs (myself included) should be happy. With projection TV, an order of "potato dugouts" and a stocked liquor closet in case your team is losing, you'll be set for the evening.
Copyright 2018 The Lawrence Journal-World. All rights reserved. This material may not be published, broadcast, rewritten or redistributed. We strive to uphold our values for every story published.