In the summer of 1998, the Solomon R. Guugenheim Museum in New York presented a show called The Art of the Motorcycle. While the endorsement of one to the world's leading art museums is a fine thing, motorcycle owners, especially owners of big American v-twin powered bikes found nothing surprising about Motorcycles receiving broader recognition as objects of aesthetic appreciation. Most owners of Harley-Davidson motorcycles tend to view their own bikes as both vehicle and also canvas for their personal expression.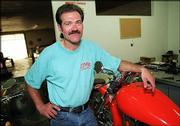 Some riders take their motorcycling vision to the next level and choose to express the full creative impulse in the form of a "ground-up," scratch-built custom motorcycle. These bikes, usually based on Harley-Davidson technology, if not always Harley-Davidson parts are sometimes one time, garage-built effortsdo-it-yourself projects. Most people however, choose to put their vision into the skilled hands of a master custom builder like Rick Combs.
Combs, a motorcyclist since his youth, came to building custom motorcycles gradually. Coming to Lawrence from Minnesota in 1980 after visiting his father, a printer, here, Combs saw a town to his liking. After less than a year working in the printing trade, the self-taught paint and body specialist decided to open his own body shop.
That was twenty years ago, but bike building would be another ten years coming. His paint and body work eventually included motorcycles. From there he moves into customizing frames and doing engine work.
While Combs still does some bodywork, and custom paint and other smaller jobs are still his bread and butter, he builds about a half dozen bikes from scratch each year. About four of these get built during the off-season and only a couple during the summer when other work keeps him busy.
Combs says that the average scratch-built bike he produces runs the customer anywhere from $25,000 to $35,000. A factory Harley runs from $12,000 to $24,000. The custom client wants, is willing to pay for, and gets quite a bit more. In addition to all the wish fulfillment with regards to exotic mechanical components, there is a level of craftsmanship that a production line just cannot match. Fenders are meticulously formed, mounting hardware is integrated, frames have all their welds ground smooth, wiring is routed and hidden internally, frames are color-matched to body paint, and paint work is spectacular.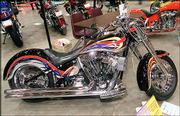 While Combs does show his bikes some in local events, he doesn't work the show-bike circuit extensively. "It's a lot of work," says Combs, "It takes a lot of your time." Combs work can usually be seen in the Capitol City Bike Show each spring in Topeka.
Rick Combs' shop is located at 1837 E 1450 Road in north Lawrence. Combs can be reached at 749-1572
Copyright 2018 The Lawrence Journal-World. All rights reserved. This material may not be published, broadcast, rewritten or redistributed. We strive to uphold our values for every story published.