Chicago — How did sports become so young?
Kwame Brown is the first high school senior to be picked No. 1 in the NBA draft. Tyson Chandler, another prep behemoth, is selected No. 2, and Eddy Curry goes No. 4.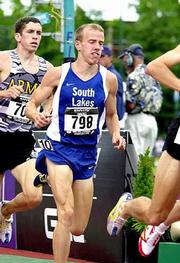 Alan Webb, 18, of Virginia breaks Jim Ryun's 36-year-old high school record for the mile. Andy Roddick, another 18-year-old, is matching strokes with the big boys on the men's tennis tour.
Morgan Pressel, a 13-year-old middle-school student, qualifies for the U.S. Women's Open.
Teenage breaststroker Megan Quann wins three medals at the Sydney Olympics, including two golds. Michael Phelps, 16, breaks his own world record in the 200-meter butterfly at the World Championships.
If you are a sports fans who grew up in the 1950s and 1960s arguing Mays vs. Mantle and Russell vs. Chamberlain, you may be asking when did top U.S. athletes become the same age as your kids.
On second thought, when did they become younger than your kids?
The athletes of the Millennial Generation, those Americans born since 1982, are not quite ready to take over "SportsCenter." Generation X, born 1961 to 1981 and featuring Tiger Woods, Barry Bonds, Marion Jones and Shaquille O'Neal, won't be leaving the field for some time to come. But a changing of the guard is in the works.
About every 15 to 20 years, a new generation of American athletes reinvigorates sports, bringing new personalities and breaking old records. For the next few years, the Millennial athlete will be an interesting conversation piece, an anomaly. Check back around 2010, however, and they'll be the stars of the show.
"In music, film and sports, Millennial stars will begin to emerge" in 2000-2009, generation historians Neil Howe and William Strauss write in their book "Millennials Rising."
Howe and Strauss predict that between 2010 and 2019 Millennials will "reach their peak of cultural influence" in sports and entertainment.
The first Millennial world champions already are in the books. Tara Lipinski won the gold medal in women's figure skating at the 1998 Winter Olympics in Nagano, Japan. Two years later Quann took gold in the 100-meter breaststroke and silver in the 200 breaststroke at the Sydney Games. She added another gold in the 400-meter medley relay.
Quann's Millennial swim teammates, Klete Keller, Ian Crocker, Aaron Piersol and Diana Munz, also took home medals from the 2000 Olympics.
Their success mirrors the entry of previous generations into international sports. An early sports star of the Silent Generation (born 1925-1942) was teenage Olympic decathlon champion Bob Mathias at the 1948 London Games. When asked how he would celebrate, Mathias' famous reply was "I'll start shaving, I guess."
The Baby Boomers (born 1943-1960) began to enter the lists at the 1964 Winter Olympics in Innsbruck, Austria. Only three years after a plane crash wiped out the U.S. skating team, 14-year-old Scott Allen won a bronze medal in the men's competition.
Later that year at the Tokyo Olympic Games, Boomer swimmers Don Schollander, Sharon Stouder and Donna DeVarona all were multiple gold-medal winners.
The Boomer athlete arrived for good in 1965 on the shoulders of Bill Bradley's Final Four-record 58-point game for Princeton, the 18-year-old Ryun's American record in the mile and Gale Sayers' six touchdowns in the mud at Wrigley Field.
These days the fading Boomer legacy in sports that once was symbolized by Bird and Magic and Montana and Payton is carried on the aging legs of future Hall of Famers Cal Ripken, Tony Gwynn and Rickey Henderson, plus an occasional Boomer victory in golf or auto racing. The Boomers' biggest sports presence in 2001 comes from the sideline contributions of Phil Jackson, Lou Piniella, Brian Billick and Mike Shanahan.
Not every generation introduces its athletes with an Olympic moment. Chemically enhanced East German female swimmers at the 1976 Montreal Games and the U.S. boycott of the 1980 Moscow Games delayed Generation X's gold-medal opportunities.
Instead 16-year-old tennis prodigy Tracy Austin recorded her generation's first athletic success by winning the 1979 U.S. Open. Indiana sophomore Isiah Thomas in 1981 and North Carolina freshman Michael Jordan in 1982 helped their schools to NCAA basketball titles.
Carl Lewis continued X's momentum by winning three gold medals at the inaugural world track and field championships in 1983, then added four more at the 1984 Los Angeles Olympics.
The generation of Jordan and Lewis rules American sports today, and as long as Woods chases major golf championships, Lance Armstrong rides in the Tour de France, and O'Neal and Kobe Bryant add more NBA titles, these are the X's games.
As with every generation since World War II, Millennial success on the athletic field will be accompanied by a technological development that increases their exposure, in Millennials' case the Internet.
The Silent Generation of Johnny Unitas, Jim Brown, Hank Aaron and Muhammad Ali has achieved nearly mythical status not only for their on-the-field feats but as the first athletes to have their skills showcased live on television and not on a movie house newsreel.
The Boomers of Billie Jean King, Kareem Abdul-Jabbar and Lawrence Taylor were the generation of color TV and instant replay.
Xers such as Mark McGwire, Jerry Rice and Pete Sampras have benefited from the cable TV explosion.
The Millennials will be the first generation of athletes whose entire careers will be chronicled on the Internet. Any fan with a computer can check instantly on Webb's latest race or Riddick's most recent tennis match.
When NBA Commissioner David Stern called the names of Brown, Chandler and Curry last month, some cynics may have harrumphed about unproven kids skipping college.
Give these guys a few years. They are part of an approaching wave that will flood America's sports shoreline by decade's end.
Criticize them if you will, but the Millennials are coming. Indeed, some already are here.
Copyright 2018 The Lawrence Journal-World. All rights reserved. This material may not be published, broadcast, rewritten or redistributed. We strive to uphold our values for every story published.