RIVER FALLS, WIS. — Watching film of Kansas City's woebegone kicking teams must have sickened Dick Vermeil.
Erratic, unreliable punts. Short, wild kickoffs. Missed field goals. A punt return average of merely eight yards. A punting team that surrendered more yardage to opponents than all but three NFL teams.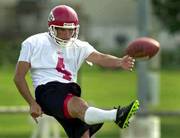 The only consistent performer was deep snapper Kendall Gammon, who's back for another year.
By any measure, the Chiefs the past two seasons had some of the NFL's most miserable special teams. More than any other single factor, this might have contributed to the 9-7, 7-9 records that cut short Gunther Cunningham's head coaching career.
It's no wonder Vermeil's first training camp as head of the Chiefs includes a new punter, kickoff returner and punt returner as well as a possible new place-kicker.
They're all under the guidance of a new special teams coach. And, in something no Chiefs team has done in at least 13 years, Tuesday morning's practice was devoted exclusively to special teams.
"Every third day we'll have a morning of just special teams work," said Vermeil, who was actually the league's first designated full-time special teams coach in 1969 with the Rams.
"You need every edge you can find. Special teams have always been a very high priority for me."
After replacing Cunningham, one of Vermeil's first acts was to sign free agent punter Dan Stryzinski, a 12-year veteran who had a 37.9-yard average for Atlanta last year.
Todd Peterson, signed after the start of last season to replace an over-the-hill Pete Stoyanovich, had a decent year. But he's being challenged in camp by rookie free agent Lawrence Tynes of Troy State, who has kicked a 58-yarder in practice.
Dante Hall and rookie J.J. Moses are fighting for the job of punt returner. Returning kicks will be another newcomer, Tony Horne, who scored five TDs on kickoff returns in three years with the Rams.
It seems highly unlikely special teams will not be showing significant, immediate improvement in Kansas City.
"I'm especially pleased with (Stryzinski)," Vermeil said. "I think he's the best. I also like what I see in Dante Hall and J.J. fielding punts. I don't know them real well yet, but I'm getting the feeling that they are the kind of kids who aren't going to panic back there."
Another new face on Chiefs special teams is that of Frank Gansz Jr., who replaced Mike Stock as special teams coach in January. Gansz is a familiar name to Chiefs fans. Frank Sr. was a renowned special teams coach in Kansas City in the mid-'80s and was elevated to head coach for two years before getting fired.
"We want to try to raise the bar and the first way you do that is to start with your habits, your practices, your behavior on the practice field," Gansz said.
"Obviously, we need some improvement. But the guys are working hard, and I see a lot of young players I think can contribute."
Gansz, 38, was special teams coach for the Oakland Raiders the past two years and spent five years before that as the University of Houston's special teams and tight end coach.
While everyone not involved in kicking teams simply watched from the sideline Tuesday morning, Gansz kept hustling his units in and out for hurry-up drills.
For the most part, they looked sharp.
"They have to know and anticipate sudden change because that's really what the kicking game is. You're always going to have quick changes," Gansz said.
"The kicking game is the transitional down in a professional football game. I'm lucky to be working for Dick Vermeil, somebody who is willing to give me this much time."
There will be no doubt by anybody as to how closely Vermeil will be watching.
"A lot of coaches, you'll hear them talk about how important special teams are," Gansz said. "But he really emphasizes it. He sits in the front row of meetings all the time.
"It carries down to the players."
Copyright 2018 The Associated Press. All rights reserved. This material may not be published, broadcast, rewritten or redistributed. We strive to uphold our values for every story published.