Mary had a little lamb. But 8-year-old Paris Nottingham has six, and some of them aren't so small.
She'll be showing them Thursday at the Douglas County 4-H Free Fair.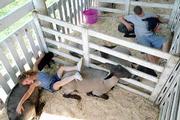 Nottingham is a member of Palmyra 4-H Club. Among her show sheep is Nottingham's first one, acquired while the youngster was still in pre-school. Nottingham calls the ewe Princess Leia.
"She had some really good babies this year that I'm showing," Nottingham said. "I'm showing all my lambs."
Nottingham joins her two older brothers, Conner, 11, and Braxton, 13. Together, the Baldwin siblings will show 20 sheep.
Fair judges evaluate the animals' build and appearance and how well the youngsters handle them in the ring.
Last year, Braxton Nottingham claimed two reserve champion awards for crossbreed and Suffolk. Every spring he spends at least 10 minutes per lamb a day and then about 30 minutes of practice per animal every day as the sheep get older.
"It does take up a lot of time, but I have fun with it and you get a lot out of it," he said.
For some 4-H members, raising sheep has become a family business.
Since he was 7, Luke Wempe, a member of Clinton Eagle 4-H Club, has been raising, breeding and showing sheep at fairs and other shows across the country.
"We want to do good at the shows," he said. "It's fun because I like going to the different places, and sometimes you get invited to other people's farms."
In December, Wempe will travel to Phoenix, where he will work with and show another farmer's sheep.
He's already thinking about a future with his sheep. When he's older, he said he'll probably get involved with the family business, Syndicate Show Lambs.
"It's a big responsibility for your farm if you want to show them," he said.
Others members in Wempe's club show sheep just for fun at the fair.
This year, Shelbie Harrell, 11, a member of Clinton Eagle 4-H Club, is showing two sheep, Frankenstein and Angel, as well as a bucket calf. Shelbie said her dad entered sheep when he was her age, so she decided she would follow in his footsteps.
"They're really easy to take care of," she said. "You just have to shear them, water and feed them."
Copyright 2018 The Lawrence Journal-World. All rights reserved. This material may not be published, broadcast, rewritten or redistributed. We strive to uphold our values for every story published.