Washington — Police began scaling back their investigation of Chandra Levy's disappearance, ending an intensive three-week search of woods and abandoned buildings in areas near the federal intern's apartment.
About two dozen police recruits spent two hours Tuesday morning in the woods behind the Naval Observatory, which includes the vice president's residence.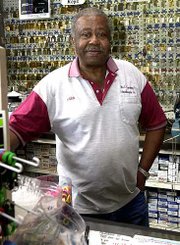 "This is the last such search until there are leads or clues indicating they should resume," said Sgt. Joe Gentile, a District of Columbia police spokesman.
The search produced no clues on the whereabouts of Levy, a 24-year-old from Modesto, Calif., who vanished sometime after logging off her computer on May 1.
Police have distributed computer-altered images of Levy in case she changed her appearance to hide out. They have talked to scores of neighbors, co-workers and friends, including Rep. Gary Condit, seeking information about where she could have gone and with whom.
In Modesto, Levy's parents, Dr. Robert and Susan Levy, continued their wait.
Mrs. Levy recalled the grim irony of the admonition she gave her daughter before she headed to Washington last fall to start an internship at the U.S. Bureau of Prisons.
"I honestly said, 'Chandra ... don't you become a Monica Lewinsky,"' she said. "And look at what happened."
Dr. Levy chimed in: "Much, much worse."
The only glimmer of hope for the Levys on Tuesday was the claim from a Washington hardware store employee who said he saw Levy at least a day after police have said she was last seen.
An FBI agent and two Washington police detectives interviewed John Woodfolk, a 16-year employee of W.J. Candey Hardware, located across the street from Levy's health club. Police have said the last confirmed sighting of Levy was April 30, when she canceled her membership at the club.
Woodfolk says he believes Levy was in the store sometime during the first week of May. He said she ordered what he thought were house keys and said she would be back to pick them up. He recalled her paying with a credit or debit card, but store employees have been unable to locate a receipt.
"She had her hair pulled back like in one of those photos. ... It was her," he told The Associated Press.
Police have said they researched Levy's financial transactions. They never indicated any activity after April 30.
Asked why he had not come forward sooner, Woodfolk replied, "I wasn't asked about it."
Copyright 2018 The Associated Press. All rights reserved. This material may not be published, broadcast, rewritten or redistributed. We strive to uphold our values for every story published.