New York — No, no excuses; it's not too hot to cook.
Adapt, yes. Plan to organize, take it easy. It's quite feasible to entertain and eat delightfully well outdoors in ways that will leave all participants unfrazzled.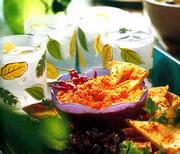 Strategies abound. Just look at the cool advice available from cookbooks tailored to the needs of the season, eager to steer you in the right direction.
"The Garden Entertaining Cookbook" (Chronicle Books, $24.95) by Barbara Scott-Goodman and Mary Goodbody begs to be taken into the back yard so you can sit back and browse through its pleasing pages and fine color photos by Michael Grimm.
Don't be misled. The recipes, stylish but not pretentious, will probably inspire a bout of cooking rather than total indolence.
"The reason I enjoy eating outdoors is you can be very flexible," Scott-Goodman said.
As she interprets the term, "garden" space can range from a big back yard with a pool to a fire-escape stairway in the city.
Whether cooking or serving food outdoors, flexibility means coming to terms with the unexpected changes in the weather, for example, or guests who bring along the children at the last minute, Scott-Goodman said.
"I personally like that casualness of outdoor entertaining," she said.
Remember that you can do a lot of the work in advance; some dishes can be done inside, then finished outside on the grill near serving time.
Think about what your situation is, she said, plan accordingly and "Make sure you yourself are able to be there for the party!"
Of the recipes in the book, "My just-about all-time favorite is Grilled Shrimp and Corn Chowder," Scott-Goodman said. Grilling the corn and shrimp enhances their already wonderful flavors, she said.
Grilled Shrimp
And Corn Chowder
2 tablespoons olive oil
1 small red onion, peeled and finely chopped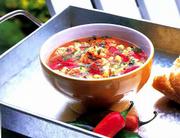 2 red bell peppers, seeded, deveined and cut into 1-inch pieces
1 jalapeno pepper, stemmed, seeded and finely minced
4 cups chicken stock, preferably homemade
2 cups water
1 cup chopped fresh tomatoes (2 medium tomatoes)
1 pound medium-sized shrimp, shelled and deveined (about 30 shrimp)
4 medium-sized ears corn, husked
Corn or canola oil, for brushing
2 teaspoons white vinegar
Salt and freshly ground black pepper
3 tablespoons minced fresh flat-leaf parsley, for garnish
Prepare a gas or charcoal grill. Lightly spray the grill rack with vegetable oil spray to prevent sticking. Heat the coals until very hot, covered with a thin layer of white ash and glowing deep red.
Heat the olive oil in a stockpot. Add the onion, red pepper and jalapeno, and cook over low heat for about 10 minutes, until softened. Add the stock, water and tomatoes. Bring to a boil, reduce the heat to medium, cover, and simmer for 10 to 15 minutes. Remove from the heat.
Thread the shrimp on skewers. Brush the shrimp and each ear of corn with a bit of the corn oil or canola oil.
Grill the shrimp for 2 to 3 minutes per side until just cooked through and pink. Remove the shrimp from the skewers and set aside. Grill the corn, turning often, for about 10 minutes, until lightly browned. When cool enough to handle, cut the kernels off the cobs with a sharp knife.
Stir the vinegar and the corn kernels into the soup. Season to taste with salt and pepper. Heat soup again, if necessary. Ladle soup into bowls, top each serving with grilled shrimp and garnish with parsley. Serve at once.
Makes 6 servings.
The Associated Press
With fresh produce at its best, summer is the time to savor seasonal flavors. These recipes will help you do just that.
"More Summer Weekends Cookbook" (Cottage Life, $24.95 paperback) by Jane Rodmell is a follow-up to her 1997 "Summer Weekend Cookbook" (Firefly).
In addition to the 175 "brand-new" recipes, the book is packed with information to help plan summer entertaining: complete menus, ingredient ideas and cooking tips, basic dishes and variations. Full-page color photos show you what the food looks like.
Among the recipes, Red Pepper and Feta Spread is a handy item to make ahead, adaptable to almost any kind of outdoor meal.
Red Pepper
And Feta Spread
4 sweet red peppers, roasted, peeled, seeded and chopped
1/2 to 1 fresh hot red pepper, seeded and chopped (or to taste)
2 cloves garlic, minced
2 tablespoons extra-virgin olive oil
1 pound feta cheese, crumbled
Freshly ground black pepper
Squeeze of fresh lemon juice
Place peppers, garlic and olive oil in a food processor and blend to a paste. Add feta cheese, and pulse to combine just until smooth. Do not overprocess or the cheese will become too runny. Taste and adjust seasoning. Depending on the quality of the feta, you may wish to add a squeeze of lemon juice or a few grindings of black pepper.
Spread can be stored in the refrigerator for up to 3 days.
Makes 2 cups.
In "Picnic" (Storey Books, $9.95 paperback), author DeeDee Stovel makes clear what kind of delicious eating she espouses. One recipe she gets a lot of comment on is the Cold Rice Salad.
"It's a nice alternative to a pasta salad, and you could add some chicken or other protein to make it a complete meal," Stovel said. "It's very flavorful it has lots of crunch and texture."
Cold Rice Salad
6 cups cooked brown rice
3/4 cup dried currants
1/2 cup toasted slivered almonds
1 Granny Smith or other tart apple, cored and chopped
1 medium purple onion, thinly sliced
1 medium green bell pepper, seeded and chopped
1/4 cup capers
1/2 teaspoon peeled and grated fresh ginger root
Dressing:
1/2 cup white wine vinegar
1 tablespoon sugar
2 teaspoons curry powder
1 teaspoon dry mustard
1/2 teaspoon ground cardamom
1/2 teaspoon ground mace
1/2 teaspoon salt
1/4 teaspoon ground cinnamon
1/4 teaspoon cayenne pepper
Freshly ground black pepper
3/4 cup vegetable oil
In a large bowl, mix together the rice, currants, almonds, apple, onion, pepper, capers and ginger root.
To make the dressing: Place all of the ingredient except the oil in a blender or food processor and process until blended. With the machine running, slowly drizzle in the oil until the mixture is creamy.
Pour the dressing over the salad and chill for several hours. Pack the salad in a 2-quart covered container to transport to the picnic.
The salad can be served at room or "air" temperature.
Makes 8 servings.
If deviled eggs are a favorite item to stow away in your picnic baskets, you may like to try a lighter, savory version Avocado Angel Eggs.
The eggs are made without mayonnaise; avocado gives the eggs a rich taste, but leaves the dish low-fat and cholesterol free.
Avocado
Angel Eggs
1 dozen large, hard-cooked eggs, peeled
2 ripe avocados
1 tablespoon lemon juice
1/4 teaspoon coarse-ground garlic powder
2 tablespoons finely chopped shallots or green onions
2 teaspoons capers, mashed (optional)
Garnish: slivers of red, yellow or green bell pepper
Slice each egg in half lengthwise, and remove egg yolks. (Use egg yolks for some other recipe.) Cut avocado in half and remove pit. Peel avocado and cube. In bowl, combine avocado, lemon juice and garlic, mashing to blend. Stir in shallots or green onions and capers, if used. Fill each egg white with avocado mixture. Garnish with bell pepper slivers.
Makes 24 stuffed-egg servings.
Nutrition information per serving: 35 cal., 2 g pro., 1 g carbo., 3 g fat, 0 mg chol., 1 g dietary fiber, 55 mg sodium.
Copyright 2018 The Associated Press. All rights reserved. This material may not be published, broadcast, rewritten or redistributed. We strive to uphold our values for every story published.