Mineralnye Vody, Russia — Heavily armed Russian commandos rushed a hijacked bus in a lightning raid Tuesday, killing a Chechen gunman who had seized it to demand freedom for five Chechens jailed for another hijacking.
The commandos set off concussion grenades and a sniper shot the gunman in the head when he peered out to investigate the noise, said Valery Kavtosenkov of the Federal Security Service. Several people on the bus were injured by flying glass.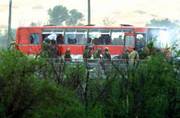 The bus passengers were being interrogated to determine whether any were linked to the hijacking. The bus was carrying more than 40 passengers when it was seized Tuesday morning not far from separatist Chechnya, and a dozen passengers were freed during the standoff.
Initially, authorities said two hijackers took control of the bus. But late Tuesday, it was unclear whether there had been a second hijacker at all or if the second hijacker somehow escaped or mingled with the passengers.
The dead hijacker, who was identified as Sultan-Said Idiyev, an ethnic Chechen, had a bomb attached to his body, the Interfax news agency quoted regional prosecutor Robert Adelkhanyan as saying.
The precisely coordinated action that brought an end to the daylong crisis was praised by President Vladimir Putin, but the hijacking also underlined Russia's inability to bring Chechen rebels to heel.
In the hours of the standoff, anxious passengers peered nervously from behind the bus' curtains, which were drawn against the intense midday heat. Several of the vehicle's windows were broken.
As the temperature soared past 100 degrees, an airport doctor, Margarita Karishnina, was allowed on to the bus.
"I was there attending to people with heart problems, giving injections, medicines," she said.
The bus was heading from Nevinnomyssk to Stavropol when it was commandeered. The acting chief of the Nevinnomyssk police department was shot while talking with the hijackers, a security service duty officer said.
Copyright 2018 The Associated Press. All rights reserved. This material may not be published, broadcast, rewritten or redistributed. We strive to uphold our values for every story published.