Chicago — After trading away yet another veteran player, the Kansas City Royals came up with a win.
Brent Mayne's RBI single with two outs in the 10th inning gave the Royals a 2-1 win over the Chicago White Sox on Tuesday night.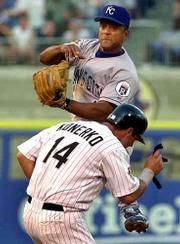 Earlier in the day, the last-place Royals shipped shortstop Rey Sanchez to Atlanta for two minor leagues. Last week, Kansas City traded outfielder Jermaine Dye.
"People keep saying that we are a depleted team," Royals manager Tony Muser said. "We have guys that can still play the game. We're in last place and still won't give up."
Paul Byrd (3-4) allowed five hits and no walks in nine innings, and Mike Sweeney homered for the Royals, who had lost 18 of 25.
"He's not a Roger Clemens-type of guy, where you get mowed-down over the course of nine innings," Mayne said of Byrd. "He can mow you down in different ways."
Keith Foulke (3-6) surrendered a one-out walk to Joe Randa and a two-out single to Mark Quinn in the 10th. Mayne then hit Foulke's next pitch to left to score pinch-runner Donnie Sadler from second.
"If I hadn't walked the one guy, we wouldn't have gotten in that situation in the first place," Foulke said. "I'm just not the guy in the 10th inning, I guess. I've had a hard time getting three people out in the 10th."
Byrd struck out five and has a 2.48 ERA over last four starts. He had won only six of his previous 25 decisions.
"Paul is a tough character," Muser said. "He did the little things at the right time. He kind of pitches backwards, throwing off-speed stuff. He goes slow, slow, slow, then shows the batter the gas to keep him honest."
Roberto Hernandez allowed the tying run to reach third with one out in the bottom of 10th, but he got Herbert Perry to ground out and Mark Johnson to strike out for his 18th save in 23 tries.
The White Sox, who still believe they have a chance for a playoff spot, failed to make up any ground.
"We had an opportunity to gain some ground and we couldn't take advantage of it," manager Jerry Manuel said.
Ray Durham singled to lead off the first for Chicago, stole second and scored on Magglio Ordonez's RBI single to left-center.
Sweeney connected off Jon Garland for his 23rd homer, a solo shot to left, in the second.
Byrd, who beat Seattle with a complete game in his last start, did not allow any runners to reach second base after the first inning.
"He was mixing his pitches very well," Manuel said. "We hit a few balls on the nose that were right at people, but he mixed his breaking pitches well and used the scale on his fastball, going from 87 to 91 (mph)."
Garland, who made his sixth start of the season, allowed one run and five hits in six innings.
Notes: The Royals, who traded Sanchez to the Braves before the game for two minor leaguers, played with 24 men Tuesday. ... The White Sox began a stretch of 22 games against teams with sub-.500 records. ... The Royals went 9-18 the White Sox 13-14 in July. ... Sweeney is 4-for-7 with two homers against Garland, and is 12-for-25 with five homers and nine RBIs against the White Sox this year. ... It was Sweeney's second homer in 25 games and third in July.
Copyright 2018 The Associated Press. All rights reserved. This material may not be published, broadcast, rewritten or redistributed. We strive to uphold our values for every story published.