St. Louis — When Mark McGwire gets a hit these days, it goes a long way.
McGwire's last eight hits have been home runs, and he connected for No. 572 Tuesday night as the St. Louis Cardinals beat the Atlanta Braves 6-2.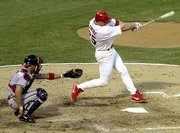 "He'll mix in a couple of singles here sometime," manager Tony La Russa said. "It is weird, especially when they're playing that shift. He just swings a little late and hits a little ground ball to right field, it's there for him."
Dustin Hermanson allowed no earned runs in seven innings and J.D. Drew, activated from the disabled list after missing 35 games with a broken right hand, hit a two-run triple off Mike Remlinger in a four-run seventh inning.
Rookie Albert Pujols' team-leading 78th RBI came on a single off Steve Reed (2-2) that snapped a tie in the seventh. Edgar Renteria was 4-for-4 with an RBI single in the four-run inning for St. Louis.
McGwire is one homer behind Harmon Killebrew for fifth place on the career list after connecting on an 0-1 fastball from Kevin Millwood in the fourth.
"I threw a fastball right down the middle and McGwire hits it out," Millwood said. "Everybody knows you can't make a mistake to that guy, but I did."
McGwire has 18 homers on the season. He's connected in five of his last seven games and has 10 homers since the All-Star break.
Astros 3, Mets 2 (10)
Houston Craig Biggio's 10th inning home run gave Houston the win and left New York on the wrong side of a game-winning homer.
The Mets won their previous two games against Philadelphia on homers in the bottom of the ninth inning by Robin Ventura and Mike Piazza, respectively.
After bolstering their pitching staff during the day by acquiring starter Pedro Astacio and reliever Mike Williams in deadline deals, the Astros got a solid start by Dave Mlicki and the game-winning homer by Biggio against Jerrod Riggan (0-1).
Nelson Cruz (2-1) pitched the 10th to get the win for Houston.
Marlins 5, Brewers 1
Milwaukee Ryan Dempster (12-9) pitched a three-hitter for his fourth career complete game as Florida snapped a four-game losing streak.
Milwaukee starter Ben Sheets (10-8), winless in five starts since June 29, gave up five runs and eight hits in 6 1-3 innings. He struck out five and walked one.
Rockies 7, Phillies 6
Denver Todd Helton hit his second solo home run, a one-out shot in the ninth inning. Helton's 33rd home run, off Rheal Cormier, handed the Phillies their fourth straight loss and third in a row on a homer in the bottom of the ninth.
Diamondbacks 3, Expos 1
Phoenix Curt Schilling pitched an eight-hitter for his NL-leading 15th victory as the Diamondbacks snapped a four-game losing streak.
Steve Finley hit his eighth homer for the Diamondbacks, who remained two games ahead of the Houston Astros in the NL wild card race. Schilling (15-5) struck out eight and walked two to tie Roger Clemens for the major league lead in wins. Schilling leads the majors with six complete games and has 71 in his career.
Cubs 7, Padres 3
San Diego Michael Tucker hit a tiebreaking solo homer in the sixth off rookie Brian Lawrence. Jon Lieber (14-5) pitched seven strong innings to win for the eighth time in nine starts. Fred McGriff went 3-for-4 with an RBI and a run, and reliever David Weathers made his Cubs debut by getting Bubba Trammell to fly out to left with two on and two out in the seventh.
Reds 3, Dodgers 1
Los Angeles Ken Griffey Jr. scaled the wall to rob a homer and vaulted over catcher Chad Kreuter to score the go-ahead run. The loss was the second straight but only the fourth in 17 games for the NL West-leading Dodgers.
Copyright 2018 The Associated Press. All rights reserved. This material may not be published, broadcast, rewritten or redistributed. We strive to uphold our values for every story published.