A TV contract worth $335,400 may be music to the ears of Kansas University athletics officials, but it strikes a sour chord with supporters of the university's annual Band Day.
Because the Fox network wants to televise KU's Sept. 15 football game against Wyoming it gets to decide when the game will be.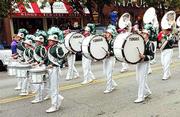 The network picked 11:30 a.m., a time officials say is too early for the traditional Band Day parade down Massachusetts Street. The day when thousands of high school musicians descend on Lawrence still will include a mass band performance at halftime.
"The mass band rehearsal takes about 1 1/2 hours," said Cindy Koester, office manager for the music department. "If you back off to the time that we can be in the stadium, there's no time to do a parade unless we do it at 6 a.m."
KU Band Day, in its 54th year, is thought to be one of the largest and longest-running band days in the nation. The event usually draws from 6,000 to 8,000 students from 50 to 60 schools.
Doug Vance, associate athletics director for media relations, said KU officials weren't expecting the game to be televised when they picked the band day date. The Fox contract is worth $335,400 to the university, he said.
"We really didn't have any control over when the game would be," he said. "We're trying to get as much TV exposure as possible. In the past, we've been a little disappointed last year we were only on twice. It's difficult to say no."
A TV contract last forced the cancellation of a Band Day parade about 10 years ago, Koester said.
Charles Van Middlesworth has taken his high school and junior high band to the event each of the four years he's directed the public school bands in Tonganoxie. News of the parade's cancellation was "disappointing," though he said the music department didn't have a choice.
"It kind of puts a hole in one of my goals for the year," he said. "Really, KU Band Day is the first public opportunity for a band to be seen. It'll definitely be disappointing that we won't be marching."
Tim Swindoll, a KU junior who plays saxophone in the marching band, said the decision to cut the parade was "unfortunate."
"I know a lot of people's parents came to watch the parade because they could watch a son or daughter in their high school band and another son or daughter in the KU Band," he said. "It's a good recruiting tool because all the high school bands see us. I think we get a lot of students into the marching band. We kind of lose some of that."
Copyright 2018 The Lawrence Journal-World. All rights reserved. This material may not be published, broadcast, rewritten or redistributed. We strive to uphold our values for every story published.