GOLDEN, COLO. — The city is moving forward with a plan to build a golf course on land holding ancient fossils, prompting protests from dinosaur lovers who fear the ancient sites could be damaged.
"The focus now is on what is right for the golf course, not what is right for paleontology," said Valerie Walker of Golden.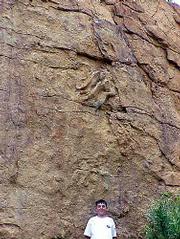 At a groundbreaking ceremony Monday night, critics stood nearby carrying signs decrying "Golf instead of history." City officials have received at least seven e-mails from around the country protesting the plan.
Golden, the only major city without a golf course in a state known for its outdoor recreation, had searched for a site for a course for more than 10 years. Earlier this year, the owner of a former clay mine donated land for a championship course.
However, the site includes 65 million-year-old tracks of duckbilled Hadrosaurs, crocodile-like reptiles known as Champosaurs and carnivorous dinosaurs called Theropods, as well as the track of a Triceratops.
Under the city's plan, three of the five fossil sites will be preserved. An impression of a palm frond over a dinosaur track will be put in the club house and a fifth site will be covered up.
The public will be allowed to view the fossils on special days.
The three sites to be preserved are in clay hillsides three to 12 feet tall. Two face away from the course; one faces it, meaning it could be hit by an errant golf ball.
State Archaeologist Susan Collins, who has toured the site, has endorsed the plan.
Copyright 2018 The Associated Press. All rights reserved. This material may not be published, broadcast, rewritten or redistributed. We strive to uphold our values for every story published.