When separating foster care in Douglas County from the rest of the state, most observers point to a deep, unquestioned commitment to doing what's right for children.
"That sounds so simple, but it's true. It's been that way for as long as I can remember and I've been here 20 years," said Judy Culley, executive director of The Shelter, a multifaceted social program that figures out which services a family will need to stay together.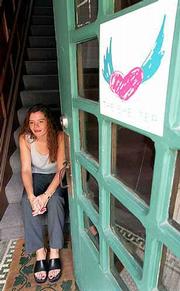 It also helps that Douglas County is neither too big nor too small.
"We're the right size," said Charlie Kuszmaul, a project coordinator at Bert Nash Community Mental Health Center. "Douglas County is big enough to have services available, and yet it's small enough to still have that community connection. We all know each other here."
Other reasons for the county's success:
Bert Nash's WRAP (Working to Recognize Alternative Possibilities) program helps children deal with social and mental health issues likely to cause problems for them at school.
This year, WRAP workers will be in every elementary, junior high and high school in Douglas County.
Kansas University's department of human development and the Kansas Department of Social and Rehabilitation Services run a truancy program that helps keep children in school.
Kaw Valley Center, the region's foster care contractor, has found ways to keep former foster children from re-entering the system.
Throughout the past two years, the number of Kaw Valley children returning home, being put up for adoption or turning 18 has exceeded the number of children entering the system.
The Shelter is able to enter diversion agreements with juveniles. If followed, these agreements keep them out of juvenile court.
The Shelter has a family services fund $30,000 from Douglas County, $30,000 from the city of Lawrence that helps troubled families get through immediate financial crises, such as car repairs or rent payments.
Few counties have access to so many services.
"I don't want to sound like (Douglas County) is heaven," Culley said. "I do get angry sometimes. But you know what? When I go to conferences and I see what other communities have to deal with, I come back thinking, 'Well, I guess we've got it pretty good here.'"
Copyright 2018 The Lawrence Journal-World. All rights reserved. This material may not be published, broadcast, rewritten or redistributed. We strive to uphold our values for every story published.