New York — Former President Bill Clinton and Grammy award-winning singer and producer Kenneth "Babyface" Edmonds announced on Tuesday they would lead a new initiative to fight AIDS in Africa and globally by raising awareness and money for the battle against the epidemic.
Clinton told a news conference "it's going to take millions of people to do the job" as he called on private citizens to join in the fight and include AIDS in their roster of charitable causes.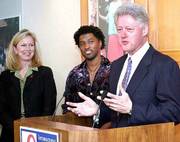 Saying he was there as a "private citizen," the former president, who is chairman of the Advisory Board for the International AIDS Trust, a Washington-based organization, said: "This is something I hope will become an American cause."
Edmonds said he would join a fact-finding mission to visit organizations supported by the International AIDS Trust and would give two benefit concerts, one in South Africa and one in New York, as well as record a new CD with proceeds for the cause.
He praised Clinton as "the coolest president that probably ever existed," promised to get Clinton into the studio with his saxophone.
Edmonds has won 10 Grammys nine for producing/songwriting and one for performing for his 1995 hit "When Can I See You." He has also written songs for Mariah Carey, Celine Dion, Madonna and Michael Jackson.
Edmonds, 42, noted that the AIDS epidemic did not exist when he was growing up and now it has killed millions. "It's a little scary to think of how much worse it could get," he said.
The AIDS pandemic has killed more than 25 million people worldwide and infected more than 60 million.
Africa has borne the brunt of the epidemic, with infection rates in adults in Sub-Saharan Africa as high as 33 percent, AIDS Trust officials said.
At current rates half of South Africa's 15-year-olds are projected to die from the disease.
But Clinton said "this is not an African problem," although it has 70 percent of the world's AIDS cases.
Calling AIDS "totally preventable," Clinton said, "We don't need to find ourselves five years from now with 100 million AIDS cases," adding that if that did occur, the U.S. caseload that has ebbed with the advent of new, effective drugs would surely soar as well.
"We're living in the most interdependent world in all of human history," Clinton said, with Russia, the Caribbean and India having the fastest-growing AIDS caseloads.
Clinton and Edmonds also put out a special appeal to the entertainment industry to rally to the cause because it in particular could reach young people.
Copyright 2018 The Associated Press. All rights reserved. This material may not be published, broadcast, rewritten or redistributed. We strive to uphold our values for every story published.