DETROIT — The Detroit clubhouse looked and sounded quite similar before and after the Tigers beat Seattle 4-2 Tuesday night.
Jose Lima was shaking his hips to merengue music, smiling from ear-to-ear and shouting whatever seemed to come to mind.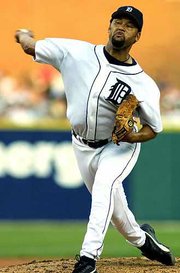 "I've been doing that for about six years," Lima said. "I haven't changed anything, even when I struggled in Houston last year. I played my music and did my thing. I love to celebrate."
Lima (3-2) gave up two runs on six hits while striking out five over eight innings. Detroit acquired Lima from Houston for Dave Mlicki on June 23. He pitched for the Tigers from 1994-1996.
Lima was 7-16 last season, one year after going 21-10 while screaming "It's Lima Time!" often.
Is it "Lima Time" again?
"Ah, what a question," he said. "Of course it's Lima Time, baby!"
Detroit won its third straight game and snapped Seattle's four-game winning streak.
"I'm just happy to play a club like that and perform like I did," Lima said. "It feels good. ... I was excited to face Ichiro (Suzuki). The man is unique."
Suzuki extended his hitting streak to 10 games and leads the AL with 39 mulithit games after going 2-for-4 Tuesday.
Suzuki said, through an interpreter, that Lima has a good pitching style.
The two teams had some trade possibilities including a deal that would have sent outfielder Juan Encarnacion from the Tigers to the Mariners but decided to stand pat instead.
Matt Anderson pitched the ninth for his 13th save in 14 chances.
He said it's fun to have Lima in the clubhouse and on the mound.
"He adds a lot of excitement around here," Anderson said as Lima danced around the clubhouse in a towel. "He's got a lot of flavor and a lot of character."
Aaron Sele (12-3) gave up four runs on nine hits over 6 1-3 innings. He has lost two straight after winning his previous four starts.
Rangers 6, Yankees 2
New York Alex Rodriguez, Rafael Palmeiro and Ivan Rodriguez homered as the Rangers ended the Yankees' eight-game winning streak.
The Rangers have won eight of nine to finish July 17-10, their first winning month since May last year.
Darren Oliver (9-6) won his second straight start after losing four in a row, allowing two runs one earned and six hits in seven innings. Jeff Zimmerman got the last out for his 21st save.
Ted Lilly (3-4) failed to hold 1-0 and 2-1 leads, giving up the three homers. New York remained a 31/2 games ahead of second-place Boston in the AL East.
Angels 4, Red Sox 3
Boston Troy Glaus' two-run homer in the eighth and Ramon Ortiz's pitching were pivotal.
Boston tied the game at 2 in the seventh on Doug Mirabelli's third homer of the season.
Anaheim had one hit from the third through the seventh inning against Rolando Arrojo. But Rich Garces (3-1) came in to pitch to start the eighth and walked Darrin Erstad with one out. Then Glaus pounced on the next pitch for his 27th homer, a 422-foot shot into the center-field bleachers.
Ortiz (9-7) allowed five hits, struck out five and walked one in eight innings in his third career start against the Red Sox.
Athletics 11, Indians 2
Cleveland Eric Chavez hit a three-run homer during Oakland's eight-run third inning as the Athletics improved to 13-6 since the All-Star break, completing a 19-8 month.
Cory Lidle (5-5) allowed two runs and six hits in a career-high eight innings, matching his best with seven strikeouts.
Rookie Jake Westbrook (3-3), in the starting rotation because Chuck Finley is on the DL, allowed eight runs and seven hits in 2 1-3 innings.
Blue Jays 3, Twins 1
Toronto Brian Buchanan, playing right field following the trade of Matt Lawton to the New York Mets, dropped a fly ball that let Brad Fullmer circle the bases with the go-ahead run.
With the score 1-all in the seventh, Fullmer hit a fly ball to shallow right field off Joe Mays (12-8), and it kicked off the glove of Buchanan and rolled to first baseman Doug Mientkiewicz. His throw to second sailed into left as Fullmer scored.
Minnesota has lost four straight.
Esteban Loaiza (7-9) allowed one run and 10 hits in seven innings.
Devil Rays 5, Orioles 4
Baltimore Ben Grieve had two hits and two RBIs. Grieve went 2-for-4, raising his batting average against Baltimore this season to .313. He's batting .238 against everyone else.
Chris Richard and Jerry Hairston homered for the Orioles, who went 6-21 in July. Baltimore has lost 21 of 26 overall and 15 of 18 at home.
Cal Ripken had a two-run single for the Orioles, extending his hitting streak to 11 games.
The hit gave him 3,143 over 21 seasons and moved him past Robin Yount into sole possession of 15th place on the career list.
Paul Wilson (4-7) allowed three runs and five hits in five innings. Esteban Yan recorded four outs for his 13th save.
Copyright 2018 The Associated Press. All rights reserved. This material may not be published, broadcast, rewritten or redistributed. We strive to uphold our values for every story published.