Snakes, turtles, hawks and even water fleas found themselves on display and open for public scrutiny Sunday afternoon at the Baker Wetlands.
The annual Wetlands Field Day started at 2 p.m., and by 3:15 p.m. organizers had counted nearly 300 people who had walked or driven the 1.5-mile lane through the preserve west of Haskell Avenue between 31st and 35th Streets.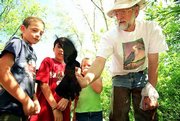 Among them were Jay Hundley, his wife, Gretchen, and their two sons, Ryan, 7, and Garrett, 3. It was the first time they had seen the wetlands up-close and personal. Ryan said he got to touch a black snake.
"It was dry," Ryan said, describing the snake.
Canoe trips were available along a canal, and Ryan said he especially enjoyed his ride.
Volunteers from Baker University, Kansas University, the Lawrence school district and other entities manned stations throughout the wetlands' route. They provided brochures about the wetlands and its animal and aquatic life while answering questions from visitors.
Most people asked about the effect the long-debated South Lawrence Trafficway would have on the wetlands, said Roger Boyd, chairman of Baker's biology department and director of its natural areas.
Construction of a highway in the wetlands would necessitate filling in at least a portion of them.
The 600 acres of wetlands should be preserved because it is the last of what once covered 18,000 acres in the Wakarusa River valley, Boyd said.
Yet the day wasn't designed to talk about highways.
"Mostly I try to stay focused on the animal and plant life here," Boyd said, as he worked a station on the boardwalk that stretches over a portion of the wetlands.
"Our main focus is to get people to come out and see what the wetlands are," he said. "Most people just think it's just smelly and full of mosquitoes."
The Hundleys expect to make a return trip through the wetlands in the future when the children are older, Jay Hundley said.
"We'll be able to see more," he said. "Right now this kind of a run-through with the kids."
Copyright 2018 The Lawrence Journal-World. All rights reserved. This material may not be published, broadcast, rewritten or redistributed. We strive to uphold our values for every story published.