Cairo, Egypt — Israeli Foreign Minister Shimon Peres promised Arab leaders Sunday that Israel would ease restrictions on Palestinians but presented what could be fatal objections to an Arab proposal to end the Mideast bloodshed.
On a journey of roller-coaster diplomacy before beginning his visit to the United States today, Peres traveled to Egypt and Jordan to formally respond to the Arab truce initiative, which calls for a cease-fire and mutual trust-building steps and then a return to peace talks.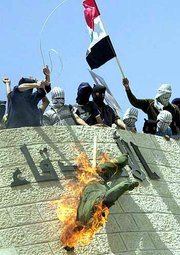 After meeting with Peres in Cairo, Egyptian President Hosni Mubarak momentarily raised hopes when he said the Israelis and Palestinians had agreed on cease-fire terms. But Israeli and Arab officials said later that a truce was still under discussion.
The Arab outline is the only mediation effort on the table to end the seven-month crisis. But the Israelis rejected several of its central tenets and Peres reportedly informed the Arabs that Israel would only resume negotiations after a cease-fire held for eight weeks, rather than the proposed four.
Arab leaders said they would consult on the Israeli counter-proposals but expressed skepticism that progress could be made.
"There has been movement but it is insufficient for a major breakthrough toward getting out of the current situation," Foreign Minister Adbel-Ilah al Khatib said after participating in a meeting between Peres and Jordan's King Abdullah II in the Red Sea port of Aqaba.
The day of diplomacy took place against a backdrop of flaring violence in Israel, the West Bank and Gaza Strip, raising questions about whether the two sides' leaders could ever impose an agreed cease-fire.
Gun battles erupted anew in the Gaza Strip, wounding eight Palestinians and an Israeli soldier. Palestinian officials said Israeli tanks shelled Palestinian territory in two different places. The Reuters news agency reported that Palestinians fired two mortar bombs at a Jewish settlement in Gaza, but there were no casualties.
Two bombs exploded near Jewish settlements in the West Bank. One of them detonated near an Israeli school bus, killing the suspected bomber, whose body was found in his destroyed car nearby.
Israeli police said they also found a large bomb in a paint bucket in the coastal city of Netanya, the scene of several recent bombings. They successfully defused it using a remote-control robot.
U.S. Secretary of State Colin Powell told Congress last week that American officials were watching developments on the plan very closely. He expressed hope that the two sides realized their present strategies would not end the conflict.
Peres was scheduled to arrive in New York today to meet with U.N. Secretary General Kofi Annan and then go on to Washington to see Powell. Peres is likely to meet with President Bush on Thursday.
The joint Egyptian-Jordanian truce plan was proposed earlier this month. Endorsed by the Palestinians, it calls for a cease-fire after Israel lifts its blockades around Palestinian cities, halts all Jewish settlement activity in the West Bank and Gaza and agrees to resume peace talks where they left off under former Prime Minister Ehud Barak. Israeli Prime Minister Ariel Sharon initially dismissed the plan, but last week his aides said they would consider it with some proposed changes. Sharon unabashedly defends settlement activity.
Copyright 2018 The Lawrence Journal-World. All rights reserved. This material may not be published, broadcast, rewritten or redistributed. We strive to uphold our values for every story published.