Lawrence painter Joyce Schild is still surprised about how far her "little art show idea" of 1962 has gone.
Originally a showcase for everyday artists in the Lawrence area, today the event known as Art in the Park is an outdoor juried exhibit that draws scores of regional artists to South Park, 11th and Massachusetts streets.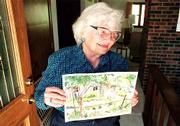 Art in the Park, which also features food vendors, hands-on activities for children and live music, is from noon to 5 p.m. May 6 and Schild will be there.
Schild, 80, uses watercolors and brushes to put the images she sees along country roads and highways on her canvases. Old barns and landscapes with lots of trees and grasses seem to catch her attention the most.
"When you paint, you feel like you're doing something just for yourself," she said.
Schild, who has lived in Lawrence since August 1950, says she works on location or from photographs that she's taken of landscapes.
"When I work outdoors, I try to find something I like," she said. "I have a sketchbook, and I sketch in there and figure out what I want dark and light."
Schild, who also works with stained glass and copper enameling, taught art classes in Iowa and Michigan before she and her husband, Kansas University professor emeritus Alvin Schild, moved to Lawrence and taught adult education classes here in the 1970s.
Her work has appeared in 11 shows. She has illustrated "Soil of Our Souls," a book by Martha Parker and Betty Laird, and silk-screened programs for the Countryside Garden Club.
But it may be the idea that eventually evolved into Art in the Park that will be most lasting.
Schild said the idea came to her one day in 1962 as she was sketching views of her former home at 1327 N.H. Walkers passing by mentioned they were artists, too. So she phoned Wayne Bly, head of Lawrence Parks and Recreation, asked about the possibility of starting an art festival to show off the work of local artists.
With help from Helen Garrett and Jane Dykes, Schild and Bly formed the Lawrence Art Guild, which would organize the art festival. The first year, the festival was at the Law-rence Community Building and was so successful plans were made to continue the event. In 1964, it officially became known as Art in the Park and moved to South Park.
Copyright 2018 The Lawrence Journal-World. All rights reserved. This material may not be published, broadcast, rewritten or redistributed. We strive to uphold our values for every story published.