Baghdad, Iraq — U.S. and British defense officials denied an Iraqi report Saturday that allied warplanes had bombed southern Iraq, killing one civilian and wounding two others.
The official Iraqi News Agency quoted an unidentified Iraqi official saying the allied airstrike hit civilian targets in Najaf province, whose capital city of the same name is 113 miles south of Baghdad.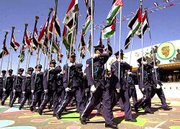 "While people were celebrating President Saddam Hussein's birthday, the evil aggressors committed another crime to be added to the list of their crimes against our people," the spokesman said. The government staged festivals Saturday across the country to celebrate Saddam's 64th birthday.
In London, a spokesman for the Ministry of Defense said U.S. and British planes flew over Iraq, but did not attack.
"We had a coalition patrol flying in the southern no-fly zone today that was fired at by Iraqi ground forces. However we didn't respond, so no bombs were dropped," the spokesman said on condition of anonymity.
In Washington, a spokeswoman for the Defense Department, Susan Hansen, concurred, saying: "There were no ordnance dropped today over southern Iraq by U.S. forces."
The Iraqi spokesman referred specifically to American and British planes, which patrol no-fly zones over northern and southern Iraq. The zones were set up in the 1990s to protect Kurdish rebels in the north and Shiite rebels in the south from government forces.
Copyright 2018 The Associated Press. All rights reserved. This material may not be published, broadcast, rewritten or redistributed. We strive to uphold our values for every story published.