Thanh Phong, Vietnam — Bui Thi Luom says she was 12 years old when seven Americans with guns stormed into her Mekong Delta village, rounding up women and children. She says she watched helplessly as they opened fire, despite her grandmother's pleadings for mercy.
She was the only survivor in her hut of 16 people 11 children and five women, she said.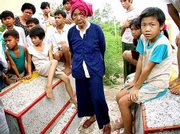 Luom's account, told for the first time to journalists on Saturday, follows the public acknowledgment last week by former Sen. Bob Kerrey that civilians were killed during a commando raid by his U.S. Navy SEAL team on this coastal village 32 years ago.
Through a spokesman, Kerrey denied Bui Thi Luom's version of events. "This account is absolutely false," he said Saturday.
Kerrey said he has been privately haunted ever since by the memory of killing civilians, but he insisted the SEALS opened fire only after being fired on.
However, The New York Times and CBS's "60 Minutes II," in a joint reporting project, quoted another ex-SEAL, Gerhard Klann, as saying the civilians were herded into a group and massacred at Thanh Phon.
Five members of Bob Kerrey's Navy SEAL team joined him Saturday in denying that they wantonly killed Vietnamese civilians during a wartime raid, and Kerrey angrily accused The New York Times and CBS of "collaborating" in a propaganda campaign to discredit Americans in the war.
"It's disgraceful," Kerrey said in a telephone interview with The Associated Press. "The Vietnamese government likes to routinely say how terrible Americans were. The Times and CBS are now collaborating in that effort."
He continued: "What happened that night is bad enough. ... It is a disgrace that just brings back the memory of the war."
The declaration of solidarity among SEAL team members came amid reports from Vietnam quoting a second witness as saying the commando team had intentionally killed civilians during the attack.
Kerrey said that about 13 civilians were killed "by mistake" after his SEAL team was fired on and returned fire during a nighttime raid to capture or kill Viet Cong officials believed to be meeting in Thanh Phong on Feb. 25, 1969.
Kerrey, a former Nebraska senator, first spoke of the Thanh Phong raid at a Thursday news conference after the Times published the joint Times-CBS News story on its Web site Wednesday.
Kerrey was awarded the Bronze Star for leading the Thanh Phong raid and later received the Medal of Honor for an unrelated action in Vietnam.
Luom, now 44, said there were no Viet Cong in Thanh Phong, and only the Americans fired weapons.
Copyright 2018 The Associated Press. All rights reserved. This material may not be published, broadcast, rewritten or redistributed. We strive to uphold our values for every story published.