Folks losing their shirt in the stock market might contact the fledgling Lawrence investment group of Anthony, Andrew, Colin, Philip and Bryant.
Of course, you'll need to get their parents' permission to talk strategy.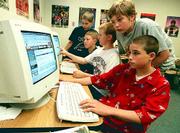 Anthony Frei, Andrew Sigler, Colin Flanders, Philip Bennett and Bryant Denning sixth-graders at Sunflower School are justifiably bullish after winning first place in the state's Spring Stock Market Game. They outsmarted 53 other elementary school teams in Kansas during a 10-week market simulation contest.
While fluctuations in the American Stock Exchange, Nasdaq Stock Market and the New York Stock Exchange were taking the polish off many investors' portfolios, the Sunflower Five entered the market Feb. 8 with $100,000 in imaginary money. All teams in the contest traded common stock offered on the three exchanges through April 12.
At the end of the game, the Sunflower team pocketed $10,442.87 in profit. Only six teams made money, but no other group earned more than $7,000. One team lost $30,000.
Members of Sunflower's winning squad trusted their research and instincts, skipping advice offered by their elders.
"My dad told me to look at banks," Bryant said. "We looked, but didn't get into that."
Andrew said the group made an unwise, but lucky, decision to focus on a narrow segment of the market.
"We had only technology," he said. "That wasn't very smart."
Bouncing back
Paul Bloom, Sunflower's gifted teacher, said the group's big play into Advanced Micro Devices, or AMD, almost cost them the contest. The team was in first place with a portfolio containing 1,700 shares of AMD, 2,000 of WorldCom, 700 of Verizon and 2,000 of Apple Computer. About 10 days before the contest ended, the bottom fell out of AMD, dropping the team into 25th place.
But the team resisted the temptation to stop the financial bleeding by selling AMD. Its amateur investors sat back and waited for a bounce.
"Just before the contest closed the stock picked up again and they finished first," Bloom said.
The Stock Market Game is coordinated by Securities Industry Foundation for Economic Education in New York City and managed in this state by Kansas State University.
The program is open to students in fourth through 12th grade as well as college students interested in learning how financial markets work and eager for the opportunity to discover the risks and rewards involved in investing.
The winning group at Sunflower spent time after school researching investment options. Members would bring ideas to a conference each Friday and the group would vote whether to buy, sell or hold. They could compare performance of their portfolio to peers on a weekly basis.
Steve Edmonds, senior vice president of investments with Robert W. Baird & Co. Inc. in Lawrence, said the Sunflower team excelled during a time when three major market indexes suffered downturns.
"No question that they did better than the market," Edmonds said. "There were individual stocks doing well, but the broad market didn't."
Long-term lesson
Dave Mattern, a financial consultant at A.G. Edwards & Sons Inc. in Lawrence, said the game was a useful tool to get children familiar with the practice of investing.
But the idea of trading under contest conditions is less sound, he said, because it rewards short-term risk-takers.
"You don't want to create a false sense of security," he said. "You don't want to pass on the idea that anybody can make $10,000 in 10 weeks. You want to get a message across that investing is for the long term."
Bloom formed four teams for this spring's competition, but none of the other three finished in the top 10. He brought in a broker to speak with all students about investment strategy, but neither adult played money manager for students during the contest.
"I coach in what I call a 'student-council' style," Bloom said. "I give a lot of information up front and then let them go. They sink or swim."
The students at Sunflower enjoyed the rush of investing enough that they plan to enter again next year.
"It was fun," Colin said.
"No," Philip corrected, "it was awesome."
Copyright 2018 The Lawrence Journal-World. All rights reserved. This material may not be published, broadcast, rewritten or redistributed. We strive to uphold our values for every story published.