Sonoma, Calif. — The Sonoma and Napa valleys lie side by side, separated by the Mayacamas Mountains, about 60 miles northeast of San Francisco.
Both are agricultural, easy on the eye and prime spots for touring. Both are devoted to gastronomy and the good life. And, of course, both make wine, unless you believe this line from comedian and vintner Tommy Smothers, which is emblazoned on Sonoma Valley T-shirts: "Sonoma makes wine. Napa makes auto parts."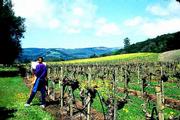 The Sonoma Valley, home of the Smothers Family Winery, has something of a chip on its shoulder because of Napa's greater fame. But these California wine regions aren't two grapes from the same vine, as I discovered on a four-day visit here last month, well before the busy summer tourist season.
To begin with, the Sonoma Valley is half the length of Napa's, just 17 miles from north to south, wedged between the tawny Mayacamas and Sonoma mountains. It is dotted with 22,800 acres of wine grapes, unassuming hamlets including Glen Ellen and Kenwood, and small farms.
While Napa strives for a traditional French ambience, immigrants from Germany and Italy have put their mark on Sonoma.
Longtime fascination
Although Sonoma is the center of activity in the valley, it is essentially a small, walkable town centered by the plaza a park with shade trees, gardens, playgrounds and picnic tables.
This oasis is surrounded by a beguiling collection of restaurants; shops like Sign of the Bear for cooking accessories and Plaza Books, specializing in rare volumes on California's mission period; winery tasting rooms including Sebastiani on the Square, where the manager taught me the finer points of tasting wine; and historic sites including the Barracks, built in 1840 for Mexican troops.
Sonoma's Spanish and Mexican heritage is recalled on plaques that call homes around the plaza "adobes" and signs that label pedestrian walkways "paseos."
Its longtime fascination with wine, first made by the Spanish padres for sacramental use, is revealed at Sebastiani Sonoma Cask Cellars, three blocks east of the plaza (but closed until September for earthquake retrofitting).
There, Samuele Sebastiani, who came to the United States from Tuscany in 1895, started a wine dynasty that endures in the valley, although a family squabble in 1985 resulted in the ouster of Samuele's grandson Sam as company president. (He went on to found Viansa Winery south of town.)
I spent two days in this pleasant town, shopping, dining, tasting wine, visiting a pasture just off the plaza and jogging on the tree-lined bike path.
I also chatted with Ignazio Vella, the son of Thomas G. Vella, who founded the company in 1931. Ig, as he's known around town, says the difference between Napa and Sonoma dates to the 1850s, when rich San Franciscans arrived in Napa by boat via San Pablo Bay and the partly navigable Napa River. Sonoma was harder to get to and eventually was settled by small land holders "hewers of wood and drawers of water," Ig Vella calls them.
Choose a climate
Where Napa was elegant, Sonoma seemed its countrified cousin, with fruit trees blooming and sunbeam-yellow mustard blooming around the vineyards.
The Sonoma Valley has three grape-growing microclimates, or appellations, which are designated by the federal government. (At least 85 percent of the grapes used in making a wine must be from the area in order for winemakers to use the name of the appellation on the bottle.)
The Sonoma Valley's appellations are Carneros/Sonoma, with 8,000 acres of vineyards and 22 wineries; Sonoma Valley, with 13,000 acres of wine grapes and 42 wineries; and Sonoma Mountain, a minuscule up-valley region with just 800 acres of vineyards and three wineries. I tasted from all three.
At a museum on the art of winemaking at Bartholomew Park Winery, I took a 30-minute trolley tour at Benziger Family Winery in the Sonoma Mountain region near Glen Ellen, where I finally bought wine: a 1998 Pinot Noir and a '97 Zinfandel.
When I open them, I will think back fondly on the Sonoma Valley, which really is different from Napa.
I like it better, for its lack of pretension.
Copyright 2018 The Lawrence Journal-World. All rights reserved. This material may not be published, broadcast, rewritten or redistributed. We strive to uphold our values for every story published.