If you're planning on going to the Art Tougeau parade, 14-year-old Paulownia Clark says you'd better bring your sunglasses.
Light reflecting off the car decorated by Clark and a dozen other youngsters with the Pelathe Community Resource Center is sure to make you squint.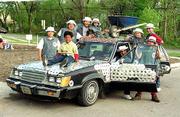 "We glued CDs on like scales (of a fish)," said Paulownia, a Central Junior High School student. "We covered it completely, except for the headlights, windows and door creases."
Paulownia said the silver CDs used to decorate the Pelathe center car mostly promotional discs for free hours on America Online and other Internet services were donated to the center.
Gary Smith, a Lawrence photographer and the center's artist-in-residence, suggested the youngsters use the discs to cover the car as an entry in the Art Tougeau parade.
"It's kind of cool," 11-year-old Jeremy Mireles said, adding that he hopes to ride in the car during the procession.
Art Tougeau, which starts at noon Saturday, begins at South Park, 1141 Mass., moves north on Massachusetts Street and crosses the river to end at the Lawrence Visitor Center/Union Pacific Depot, 402 N. Second St.
The parade features anything with wheels that can move at 5 mph, such as decorated cars, trucks, bicycles and lawnmowers, Rollerbladers, skateboarders and the weirder, the better. The fee is $15 per entry. However, children can participate for free.
The Pelathe center's car won't be the only shiny entry in the parade.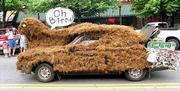 Jean Ann Pike, administrator of the Lawrence Social Service League, said she will be driving her glitter-covered car again.
"I will be re-glittering the El Camino," she said with a laugh. "It takes a good 40 hours to do."
Pike, one of the parade's coordinators, said about 40 entries are expected this year, including "Pirates!" from the Lawrence Arts Center and Free State High School students; "Chain of Fools," a mass of chained-together bicycles by Garnett resident Eric Farnsworth; and "Princess Chariot," a decorated stroller with young riders by Susan Kang.
Past entries, many of which will return Saturday, include a Norsely refrigerator car and trailer, the Van Go Boat, a wooden bicycle, a wrought-iron Volkswagen and "Ad Astra," a Ford Escort covered with trophies that is owned by Douglas County Commissioner Charles Jones.
An after-the-parade party, featuring the award-winning documentary "Leo Beuerman," will begin at 1:30 p.m. at 1031 N.H. The Lonesome Hobos will play from 2 p.m. to 3 p.m., and an avant-garde film festival will be presented by Christie Brandt at 3 p.m.
Proceeds from Art Tougeau will go to the Social Service League, an organization founded in 1888 that operates a thrift store at 905 R.I. and provides other community services.
Copyright 2018 The Lawrence Journal-World. All rights reserved. This material may not be published, broadcast, rewritten or redistributed. We strive to uphold our values for every story published.