Vieques, Puerto Rico — For the second day in a row, dozens of protesters, including some with high profiles, disrupted bombing exercises on the U.S. Navy target range on Vieques Saturday by putting themselves in the line of fire.
Navy officials said 56 people were arrested Saturday. Environmental lawyer and activist Robert Kennedy Jr., actor Edward James Olmos, and New York labor leader Dennis Rivera were among those picked up in the early afternoon when the Navy stopped ship-to-shore shelling to clear the 900-acre target range of protesters.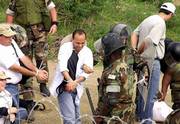 They had been dropped off by a speedboat that got past Navy and Coast Guard patrol vessels, which were busy chasing 13 fishermen who entered the area to protest restricted-zone boundaries that kept them from fishing. The trio got to an abandoned tank on a hill that protesters call Mount David in honor of civilian security guard David Sanes, whose death during a bombing accident two years ago sparked the current confrontation.
Outside the range, Rep. Luis Gutierrez, D-Ill., Puerto Rican singer Danny Rivera, composer/producer Robbie Draco Rosa of Ricky Martin fame, and several local senators and political and labor leaders broke onto Navy grounds near the main fence.
As they were arrested, they sang, "Peace for Vieques, Respect for Human Beings."
"It's an abusive situation with the people here in Vieques," said Gutierrez, minutes before military police cuffed him and put him on a van in sight of hundreds of cheering protesters on the civilian side of Camp Garcia's main gate.
"The people of Vieques have spoken and the government doesn't want to listen. When the government doesn't listen, we have a right to take action."
Tensions were high, but did not reach a boiling point as in Friday's clashes that left 65 people arrested and 400 feet of the fence protecting Navy property torn down by an irate crowd.
Hundreds of activists from Vieques and throughout Puerto Rico came here this weekend to protest and, in some cases, break onto the range after a federal judge refused to grant the Puerto Rico government's request for a restraining order blocking the training.
Copyright 2018 The Lawrence Journal-World. All rights reserved. This material may not be published, broadcast, rewritten or redistributed. We strive to uphold our values for every story published.